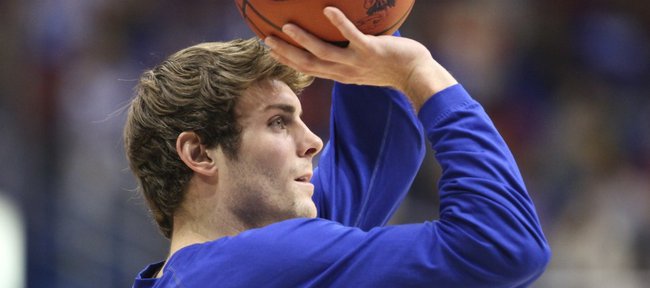 Podcast episode
Kansas coach Bill Self talks to reporters following the Jayhawks' 88-80 victory over Long Beach State on Dec. 6, 2011.
Videos
KU vs. Long Beach State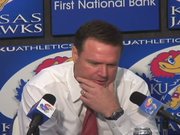 KU defeated Long Beach State, 88-80, on Tuesday, Dec. 6, 2011 at Allen Fieldhouse.
KU vs. LBSU
Three Kansas University basketball players sat at the interview table after the Jayhawks survived 16 second-half turnovers and a talented Long Beach State team to win, 88-80, Tuesday night in Allen Fieldhouse.
Center Jeff Withey had a mustache of fresh blood.
"My tooth went into my lip and went through it, got some blood flowing," Withey said. "It's definitely painful. My lip's going to be swollen for a little while, but it obviously wasn't that big of a deal if I could come back and play."
Not quite five minutes into the interview session as Conner Teahan was talking, Thomas Robinson began making sounds of a man in pain, either having cramps or knocking his knee on the table. He limped out of the room 90 seconds later.
Tyshawn Taylor wore a sleeve over a brace on his right knee, the result of an injury incurred in Monday's practice. He grimaced at times but battled his way through 34 minutes off the bench. KU coach Bill Self said the knee injury was "the primary reason" he didn't start. He was unavailable for comment afterward.
Bodies were bent, but not broken, which is a good thing because a team with so little depth can ill afford to play short-handed.
Naadir Tharpe hasn't developed to the point he has earned an every-night spot in the rotation and did not get into Tuesday's game, so that's one less player than earlier in the season it looked as if could be counted on heavily.
If not for the development of a former walk-on who used to be buried so far down the bench he tried out at quarterback for the football team after the 2009-2010 basketball season, it easily could have been a different outcome Tuesday.
Teahan, who played a career-high 35 minutes, scored 14 points and had five rebounds and didn't look gassed sitting at the table.
"I was actually shocked when I looked at that stat (minutes) because I feel pretty decent right now," Teahan said. "I feel like I've been staying in decent shape."
More than ever, Teahan showed he's more than a catch-and-shoot guy whose presence can keep the defense from jamming the lane.
He scored 12 points, all on three-pointers, in the first 10:27 of the game. His contributions didn't stop when his scoring did.
On a possession with less than three minutes left and Kansas clinging to a four-point lead, Teahan twice picked up offensive rebounds to keep the clock ticking and spray some water on the meltdown.
"We went brain-dead and shot two bad shots, and he ended up stealing two possessions for us, so those were two big-time plays for us," Self said. "Big-time plays. Conner did some good things."
And it's a good thing he did, because Kansas had four assists and 16 turnovers, compared to 12 and six in a first half in which Kansas moved the ball well and scored 51 points.
Coming into making his first start, Teahan's career high in points was 11, minutes 25.
"It doesn't matter to me if I'm coming off the bench or I'm starting," Teahan said. "I feel like I get pretty comfortable out there right away. It was nice to come fresh off of getting some shots up and getting warm.
"Other than that, it wasn't really a huge thing for me."
It was for the team.