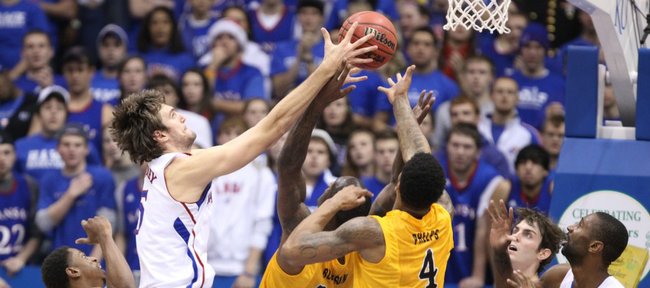 Podcast episode
Kansas coach Bill Self talks to reporters following the Jayhawks' 88-80 victory over Long Beach State on Dec. 6, 2011.
Videos
KU vs. Long Beach State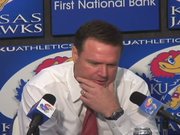 KU defeated Long Beach State, 88-80, on Tuesday, Dec. 6, 2011 at Allen Fieldhouse.
KU vs. LBSU
Kansas University junior center Jeff Withey came close to a triple-double with 13 points, 13 rebounds and nine blocks in 31 minutes.
"Of course, it would have been great to have," Withey said of a triple-double, which would have been the second official triple-double in KU history. Cole Aldrich had one versus Dayton in the 2009 NCAA Tournament.
"I didn't realize I was that close until toward the end of the game. I guess I'll just have to try for another one. I definitely wanted it, but it's not something that's always on my mind."
His nine-block effort ranks second in KU history. Aldrich had 10 versus Dayton.
Withey suffered a cut lip in the second half when he was elbowed in the face.
"We are going to punch Jeff in the mouth before every game," KU's Thomas Robinson joked.
Robinson, by the way, actually cramped up at the press table in the interview room, cutting his postgame session a bit short.
Player stats
Withey's 13 rebounds and nine blocks were career highs. ... Tyshawn Taylor started the second half, but not the first. It snapped a string of 12 straight starts. Self said it was because the team didn't know if it would have Taylor for the game after he "tweaked" his right knee at practice Monday. Self said the injury is not serious. ... Robinson's 26 points were the most by a Jayhawk this season and most since Marcus Morris scored 27 against Oklahoma State on Feb. 21 of last season. Robinson set a career high with 10 field goals. ... Conner Teahan scored a career-high 14 points, connecting on four three-point field goals, which was also a career best.
Team stats
KU's 22 turnovers were the most committed by the team this season and most since turning the ball over 24 times at Missouri last season. ... The Jayhawks' 25 fouls matched the most committed by KU this season. ... KU's three steals were a season low. .. Long Beach State's 15 steals were the most by a Jayhawk opponent since UCLA recorded 15 steals in the 2007 NCAA Tournament game. ... Long Beach State's 80 points were the most by a KU opponent in Allen Fieldhouse since Missouri scored 86 against the Jayhawks on Feb. 7 last season (a 103-86 KU win). ... Kansas outrebounded LBSU 41-24, giving the Jayhawks a plus-17 rebounding margin. Over the last four games, KU is plus-51 on the glass.
Memories
KU coach Bill Self remembers coaching against Long Beach State's Dan Monson before.
Monson's Gonzaga team clobbered Self's Tulsa squad, 78-40, in a first-round Top of the World Classic contest on Nov. 22, 1997 in Fairbanks, Alaska.
"We go there and the only tape we had on them was an exhibition game against one of the premier beer-drinking outlets in all of Spokane," Self quipped on his Hawk Talk radio show. "They (exhibition contest foes) were awful. You couldn't tell anything by the tape, they beat them so bad.
"Gonzaga had us down, 34-8, to start the game. I was going, 'Oh my gosh.' It was probably the worst beatdown a coach's team has ever given me. We had to make two free throws to get to 10 at halftime."
Dan Monson's dad is former Oregon coach Don Monson.
"He was a long-time Div. I coach and really good guy, just like Dan," Self said. "We played against Dan's teams at Minnesota (when Self was at Illinois). He probably has a better team now than what he had at Minnesota a majority of years. He has a team (in Long Beach State) that probably could do well in our league."