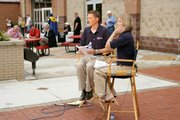 I was born and raised in the Mile High City and remain an avid fan of all things Colorado sports. At every occasion I cheer on the Broncos, Avalanche, Nuggets and Rockies.
Out of Cherry Creek High School in Denver, my college experience began at Arizona State University, where I lived in Tempe, AZ for 2 years before transferring to Colorado State University in Fort Collins, CO. In May 2004 I graduated with a bachelors degree in Journalism and minor in Political Science. My first realization that a career in television could be in my future came in the form of a phone call.
I dialed up my parents from my Arizona State University apartment during my second year of school telling them that I had changed my major from business to journalism and I wanted to be a television anchor/reporter. Following a brief moment of shock, they jumped on board and I have never looked back.
Following four internships at stations which include 12News in Phoenix, CBS4 News and Fox Sports-Rocky Mountain in Denver, as well as KGWN-TV in Cheyenne, Wyoming, I got my first big break as a sports anchor/reporter at KNOP-TV in North Platte, NE. I anchored the weekend sports in North Platte before switching gears and making the crossover to the news desk. That's what brought me to 6News and Lawrence, KS.
I was barely able to move myself in before the 2008 NCAA tournament began. We all know what happened a month later and needless to say Lawrence has been impressive so far. I feel very fortunate to live in Eastern Kansas and call Lawrence home.
In what spare time I have, you can find me on any of the local golf courses or enjoying the outdoors with my wife Sara, daughter Emily and son Jack.
Other than tuning into 6News at 10pm nightly, I work at the Regional Reporter for 6News covering general news in Eudora, Tonganoxie and Basehor.
You can also find my work on the Sunday 10pm broadcast in the form of a weekly feature segment called "Mark's on the Move." I am always looking for interesting and zany activities to take part in. I encourage you, the viewer, to contact me contact me with any story ideas or comments you may have.
You can follow me on Twitter, where I provide instant updates on news and what's going on in the area's surrounding Lawrence.
Recent Stories