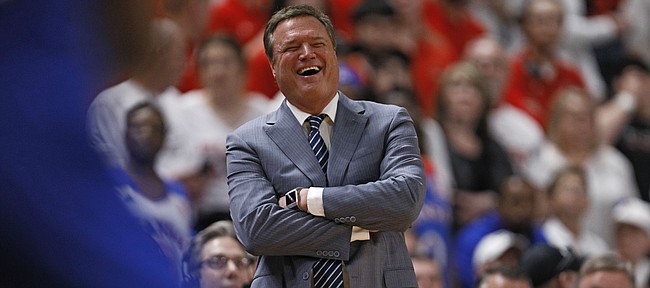 The Kansas men's basketball program on Monday released all but three games of its rebuilt 2020-21 schedule, 18 of them being conference clashes which will begin in mid-December.
The release of the majority of the 2020-21 schedule came just a few hours after ESPN announced that it was no longer pursuing the idea of hosting several of its early-season events in Orlando.
The Monday news release said that KU was still pursuing three other nonconference games and that details of those games would be released when finalized.
KU's nonconference games include Kentucky in the Champions Classic on Dec. 1 at a to-be-determined location and home matchups with North Dakota State (Dec. 5), Creighton (Dec. 8), Omaha (Dec. 11) and Tarleton State (Dec. 13).
Tarleton State is coached by longtime Self friend and former Texas Tech, Texas A&M; and Kentucky head coach Billy Gillispie.
Kansas then will open Big 12 play on Dec. 17 at Texas Tech in Lubbock, Texas, before hosting West Virginia on Dec. 22 at Allen Fieldhouse.
The Jayhawks then will be off until they play host to Texas on Jan. 2. The KU men's schedule includes three dates on ESPN's Big Monday — Jan. 18 at Baylor, Feb. 8 vs. Oklahoma State and Feb. 22 at Texas.
Game times and television assignments have not yet been released.
In an email letter sent out to donors, KU Athletic Director Jeff Long also announced Monday that KU is planning for a capacity crowd of approximately 1,500 at men's games at Allen Fieldhouse this season.
The letter notes that about 850 of those tickets will be reserved for Williams Education Fund donors, with students, player guests, coaches families, KU faculty and staff and visiting team fans accounting for the rest.
According to the email, tickets for donors will go on sale soon, with Hall of Fame- and Champion-level donors allowed to purchase six tickets per game, Olympian-, All-American- and Legend-level donors allowed to purchase four tickets per game and all other donor levels allowed to purchase two tickets per game.
Because of the limited capacity, all game day parking lots will be free of charge on a first-come, first-served basis.
At the end of the season, per the previously announced Ticket Assurance Plan, season ticket holders will have three options for all remaining balances — to donate it to the Jayhawk Relief Fund, to apply it as a credit toward the 2021-22 season or to request a prorated refund.
"While this is not what any of us had hoped for this season, it is imperative that we implement these changes for everyone's safety as well as the safety of our student-athletes," Long wrote in the email.
Asked about the earlier-than-usual start to conference play, KU coach Bill Self recently told the Journal-World he thought it was "too early" while adding that he understood why it had to be that way.
"I think in this particular year the reasoning is very good," Self said. "To allow us a week, prior to the start of the conference tournament (March 10-13 in Kansas City, Mo.) where teams can get healthy or play make-up games. On the surface, no I don't like it. But I think it's a smart move by the league."
It remains to be seen how the Jayhawks will fill the remaining portion of their nonconference schedule, which includes a Jan. 30 trip to Tennessee in the SEC/Big 12 Challenge, but at least a portion of it likely will take place before the Champions Classic game with Kentucky.
Earlier this year, the NCAA announced Nov. 25 as the official start date for the college basketball season, and, prior to ESPN canceling its Orlando plans, KU was slated to open on that date in Orlando at the Wooden Legacy event.
2020-21 KU men's schedule*
*3 games still to be added
Dec. 1 – vs. Kentucky (Champions Classic, TBD)
Dec. 5 – vs. North Dakota State
Dec. 8 – vs. Creighton
Dec. 11 – vs. Omaha
Dec. 13 – vs. Tarleton State
Dec. 17 – at Texas Tech
Dec. 22 – vs. West Virginia
Jan. 2 – vs. Texas
Jan. 5 – at TCU
Jan. 9 – vs. Oklahoma
Jan. 12 – at Oklahoma State
Jan. 16 – vs. Iowa State
Jan. 18 – at Baylor
Jan. 23 – at Oklahoma
Jan. 26 – vs. TCU
Jan. 30 – at Tennessee
Feb. 2 – vs. Kansas State
Feb. 6 – at West Virginia
Feb. 8 – vs. Oklahoma State
Feb. 13 – at Iowa State
Feb. 16 – at Kansas State
Feb. 20 – vs. Texas Tech
Feb. 22 – at Texas
Feb. 27 – vs. Baylor