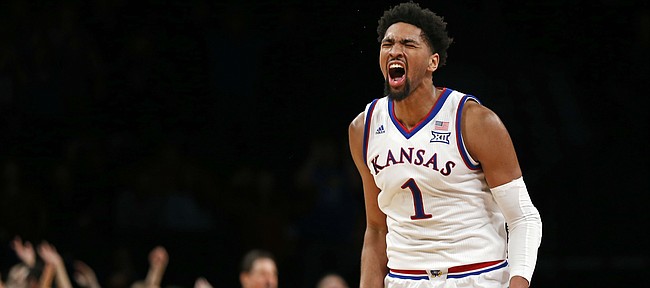 The end, for Dedric Lawson, came sooner than he would have liked, but losing in the second round of the 2019 NCAA Tournament instead of leading the Jayhawks to a national title did nothing to take away from Lawson's experience at Kansas.

"KU was definitely the best experience I had in my collegiate career," Lawson told the Journal-World during a Monday afternoon phone call from Los Angeles about five hours after announcing his intentions to declare for the NBA Draft on Twitter. "The fans supported me 1,000 percent. They came to away games, they packed Allen Fieldhouse every single night. KU is an awesome place to play. Everyone should go there. I mean, I know you only get 13 scholarships, but KU is the best place to be to help jumpstart your career and develop as a player and as a person, as well."
For Lawson, both parts of that equation came true during his two years with the Jayhawks.
After transferring to Kansas before the 2017-18 season, following a statistically successful two-year career at Memphis, Lawson ended his college run with a bang, averaging 19.4 points and 10.3 rebounds per game for the Jayhawks during the 2018-19 season.
His 22 double-doubles rank third on KU's all-time single season list — behind Thomas Robinson (27) and Drew Gooden (25) — but Lawson leaves KU believing he got so much more than solid stats out of his time in Lawrence.
"Man, just being disciplined," he said when asked what area he improved the most. "You take things for granted sometimes and at KU I realized you have to take care of your body and get proper rest and understand how to compete. It's more mental than anything. You just really learn how to go out there and play at a high level and how to play the right way."
As for how he reached the decision to leave, Kansas coach Bill Self said Monday that Lawson told him of his intentions to forego his senior season a couple of days after KU's loss to Auburn in the second round of the NCAA Tournament.
In a statement released Monday afternoon, Self again marveled at the monster season put up by his best player.
"Dedric had such a great year," Self said. "There are not very many players who have played at Kansas, or players that I have coached, that average 19 points and 10-plus rebounds in a season. I feel like it is in his best interest to use this year as a springboard into his professional future. He could not have represented our program, the university or his family any better than how he did. All Jayhawk fans should be excited for him. … We totally support his decision and wish him nothing but the best moving forward."
Although flattered and appreciative, Lawson said he did not need to read such a sentiment online to feel it from the man for whom he spent the past two seasons playing.
"Me and coach talked some over the last couple of days and he told me how proud he was of me and that just gave me extra confidence going into the draft process," Lawson told the Journal-World. "He said he's going to be 100 percent behind me; he's done nothing but support me the whole way and I'm very thankful for that. But Coach Self also made sure I knew the work had yet to be done. There's a lot more work to be do and I'm just taking it day by day and plan on putting in a lot of extra work."
Despite having a feeling for which direction he wanted to go, Lawson needed a little help to make it official. So a few days after the season ended, he went home to Memphis to discuss his plans with his parents. While all three people involved in those discussions had a good feel for what the decision would be, Lawson said it helped to talk it out and make sure he was ready.
"They asked me what I wanted to do," he said. "Throughout the season it wasn't really on my mind much, but after that last game, it was over with, and it kind of hit me."
Lawson, who was visibly upset and emotional in the locker room following the loss to Auburn, said the end of it all had something to do with the tears that flowed. But he was more than thrilled to report that the tears back then had been replaced Monday with a never-ending smile.
"Man, it was just like a dream turning to reality," he said of the moment he posted his news to Twitter. "It's something you dream of growing up as a kid, to declare for the draft. It's something that I've always wanted to do, but I also wanted to make sure it was the best situation for me to do it so I could go in and play right away in the NBA."
Make no mistake about it. That's the goal for the 6-foot-9 forward who said he planned to work on his NBA 3-point shot and getting stronger during the next month or so leading up to the combine.
Lawson has talked with people about representing him and plans to hire an agent to help with the process. He'll spend the next five weeks or so working out in Los Angeles and is looking forward to showcasing his new body and complete game for NBA scouts at the pre-draft combine in Chicago in mid-May.
He spoke of spending the next several weeks working on taking his skills from high school, Memphis and KU and "putting it all together" to build the best and most complete version of himself to put on display at the combine.
"I definitely feel underrated," Lawson told the Journal-World. "And I feel like there's some parts of my game that people really take for granted and don't realize I have. I'm looking forward to putting in the work and showing people what I can do."
Although Lawson sounds determined to move on, the door for a potential return to KU could remain open in a couple of different ways.
The first kicks in if he requests and receives an evaluation from the NBA Undergraduate Advisory Committee. Such a move would allow him to work with an agent — who must be certified by the NBA Players Association — through the pre-draft process and still return to school provided he pulls his name out of the draft pool by the May 29 deadline.
The second allows Lawson to retain his representation all the way through the draft but would require two things following the June 20 draft. First, Lawson would have to go undrafted. Second, if he does not get picked and wants to return to Kansas, he then would have to sever all ties with his agent before returning to Kansas.
Both paths seem unlikely for the 6-foot-9 forward who has been showing up on various mock draft boards as a solid second-round selection.
Lawson's news makes him the third player this month to reveal his decision to leave Kansas (sophomores Charlie Moore and K.J. Lawson plan to transfer) and brings the uncertainty surrounding KU's current roster down to three players — junior center Udoka Azubuike, sophomore forward Silvio De Sousa and freshman guard Quentin Grimes.
Azubuike and Grimes are both considered potential early-entry candidates. When asked recently by the Journal-World about the status of his players with decisions to make, Self said he would encourage all of his players interested in testing their NBA draft stock to do so.
"I do believe we're in a situation where some guys are going to test, without question," Self told the Journal-World. "And that wouldn't surprise me nor would that disappoint me at all. I think that's something that should be looked into and certain guys should consider."
As for De Sousa, he and his representation remain engaged in an appeal of his 2-year suspension by the NCAA, the results of which likely will play a big role in determining De Sousa's immediate future.
If the appeal is denied or the process drags on, De Sousa, too, could wind up a candidate for early-entry testing. If De Sousa wins the appeal, many close to the program expect him to return to KU for his junior season.
Azubuike, Grimes and potentially De Sousa have until April 21 to declare their intentions to enter the 2019 NBA Draft.
Provided they meet the deadlines and follow the guidelines for retaining their college eligibility from there, all three would have until May 29 to pull their name out of the draft and return to Kansas.