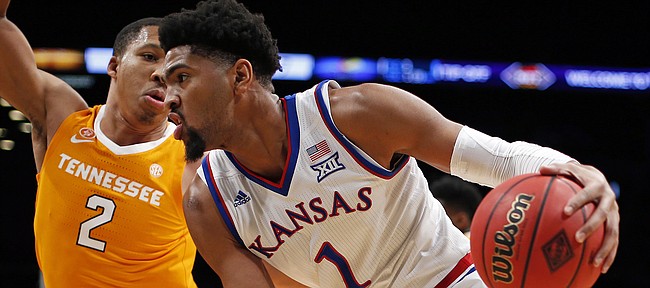 The list of available scholarships for Bill Self and the Kansas men's basketball program grew to three on Monday morning, when KU junior Dedric Lawson officially announced his intention to declare for the NBA Draft.
Lawson, a junior from Memphis who averaged 19 points and 10 rebounds while recording 22 double-doubles during his lone season with the Jayhawks, announced the move on Twitter, saying he had "big news" and following that up with the following statement.
"First, I would like to thank God for blessing me with the talent and opportunities to play the game I love," he began. "I would also like to thank Coach Self, KU Coaching Staff, Academic Advisors, and the best fans in the country from the University of Kansas for allowing me to recreate myself and display my talents. After prayer and discussion with my family, I will pursue my life's dream by declaring for the NBA draft. I will begin my preparation for the NBA immediately. RockChalk JayHawk for Life!!"
Added Self in a statement released Monday afternoon: "Dedric had such a great year. There are not very many players who have played at Kansas, or players that I have coached, that average 19 points and 10-plus rebounds in a season. I feel like it is in his best interest to use this year as a springboard into his professional future. He could not have represented our program, the university or his family any better than how he did. All Jayhawk fans should be excited for him."
A source close to the Lawson family told the Journal-World that Lawson's intention is to hire an agent, which increases the likelihood that moving on from KU is his final decision.
The door for a potential return to KU could remain open in a couple of different ways, but it is not clear whether those paths are a part of Lawson's plan.
The first kicks in if he requests and receives and evaluation from the NBA Undergraduate Advisory Committee. Such a move would allow him to work with an agent — who must be certified by the NBA Players Association — through the pre-draft process and still return to school provided he pulls his name out of the draft pool by the May 29 deadline.
The second allows Lawson to retain his representation all the way through the draft but would require two things following the June 20 draft. First, Lawson would have to go undrafted. Second, if he does not get picked and wants to return to Kansas, he then would have to sever all ties with his agent before returning to Kansas.
Both paths seem unlikely for the 6-foot-9 forward who has been showing up on various mock draft boards as a solid second-round selection.
Monday's news, and what Lawson hopes will come of it, hardly came as a surprise to Self.
"Dedric informed me shortly after the season of his intentions to declare for the NBA Draft," Self said in the statement. "He had a chance to go home and visit with family about this and we totally support his decision and wish him nothing but the best moving forward."
Lawson's news brings KU's uncertainty down to three players — junior center Udoka Azubuike, sophomore forward Silvio De Sousa and freshman guard Quentin Grimes.
Azubuike and Grimes are both considered potential early-entry candidates. When asked recently by the Journal-World about the status of his players with decisions to make, Self said he would encourage all of his players interested in testing their NBA draft stock to do so.
"I do believe we're in a situation where some guys are going to test, without question," Self told the Journal-World. "And that wouldn't surprise me nor would that disappoint me at all. I think that's something that should be looked into and certain guys should consider."
As for De Sousa, he and his representation remain engaged in an appeal of his 2-year suspension by the NCAA, the results of which likely will play a big role in determining De Sousa's immediate future.
If the appeal is denied or the process drags on, De Sousa, too, could wind up a candidate for early-entry testing. If De Sousa wins the appeal, many close to the program expect him to return to KU for his junior season.
As for gauging his level of surprise that as many as six players from the 2018-19 roster could depart this offseason — Charlie Moore and K.J. Lawson announced last week their intentions to transfer — Self said he and his staff were moving forward with the assumption that all of the players interested in testing the NBA waters would be gone.
"Nothing would surprise me," he said. "You never know what these kids are thinking."
Azubuike, Grimes and potentially De Sousa have until April 21 to declare their intentions to enter the 2019 NBA Draft. Provided they meet the deadlines and follow the guidelines for retaining their college eligibility from there, all three would have until May 29 to pull their name out of the draft and return to Kansas.