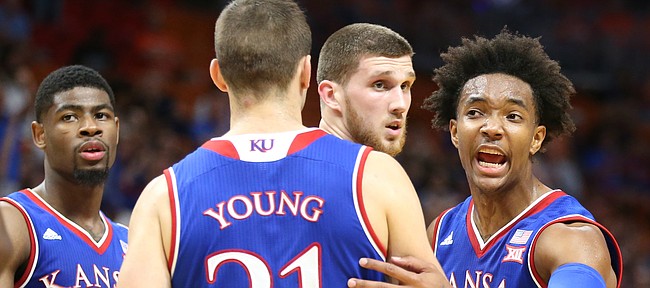 MIAMI — If Clay Young doesn't want MVP honors, he'll have to settle for president.
In the locker room following KU's 76-60 win over Syracuse, Young stood face to face with Devonte' Graham. Fresh off a potentially career-defining performance, the most popular man on KU's campus wanted nothing more than to credit the walk-on for his 1-assist, 0-point, 0-rebound, 0-block, 0-steal outing.
"When I walked in the locker room, I told him, Clay's really the MVP," Graham said. "I think last time he had a good game, I tweeted out, 'Clay for president.' "
That he certainly did.
Young pawned the honors — at least the MVP ones — back on Graham. He smiled sheepishly when Graham's comment was repeated back to him and maintained his job was simply to not screw up.
Photo Gallery
Kansas basketball v. Syracuse (Hoophall Miami Invitational)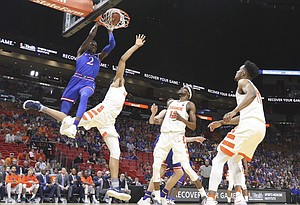 View a gallery of images from the Jayhawks' matchup against The Orange on Saturday, Dec. 2, 2017 at American Airlines Arena in Miami.
It's that mentality that allowed him to be so effective against Syracuse.
Young's highlights — yes, he had them — weren't all made for TV. Initially thrust into the game because of foul trouble with Udoka Azubuike and Mitch Lightfoot, the Lansing-native filled his role screening against the zone and also worked quickly in moving the ball into the right spots.
At one point in the half, Young caught the ball on the baseline. He pump-faked toward the hoop and then turned and dropped a pass off for Svi Mykhailiuk, who hit a 3 to give KU the lead.
Later, with KU up 10, Young stood in the paint as Marek Dolezaj drove past Mykhailiuk. Young was set and drew a charge. Graham pumped his fist in celebration.
"I was always pretty good at taking charges. I've just always had a knack for that," Young said. "I saw him driving in there and it was just an easy play, because I'm not going to go block any shots, obviously."
Graham may have been Young's biggest supporter on the court. In the virtual world of Twitter, there was an even louder voice.
Jamari Traylor, who had tweeted just once since Halloween, sent out four Tweets Saturday night.
The first, praised Young's defense. The next said simply "Clay Young > Syracuse Bigs."
Then Traylor praised Young's plus-minus. Then he ragged on the Syracuse defenders.
Bill Self, on the other hand, needed only a few words, and a smile, to make his thoughts clear.
"I actually thought he did great," said the KU coach. "Six-three guarding 7-2, I thought he did OK."
Despite not putting up numbers — admittedly, not his job — Young did everything asked of him.
He forced a pair of Syracuse turnovers, positioned his body perfectly to allow KU to execute on a lob-play and kept the Syracuse big men out of position to shoot.
Of Syracuse's first 10 field goal attempts with Young in the game, seven were 3-pointers, all of which misfired.
Syracuse centers Paschal Chukwu and Bourama Sidibe attempted two shots in the first half. Only one was against Young. It was a dunk that missed off the back iron.
"I've probably guarded some 7-footers in my day, like back in JUCO and stuff," Young said. "(Chukwu) was probably the tallest guy I've ever guarded. There was a little bit of height difference there."
Young said his plan was to be physical and put a body on the taller Syracuse players wherever they were on the court.
Offensively, he focused on his part, running the baseline and being in the right positions. He watched as KU reaped the benefits.
"When he comes in, he just does the little things just to help us win," said Graham. "You need somebody like that, and when we're in foul trouble he can come in and we just keep on rolling."
And roll they did.
KU led by one point when Young first checked into the game. Nine minutes and six seconds later, it was halftime. KU had not only held the lead, but actually pushed it out to 14.
Young, who still has yet to snag a rebound on the season, proved crucial in KU's in-game rebound.
Sounds like a team MVP, right?
"Uh, I don't know, I mean D'Tae is obviously the game MVP," Young said. "For me to go in there and play a couple minutes, at least do what I could do, for those guys to be supportive is pretty cool."
---
More news and notes from Kansas vs. Syracuse
---
---