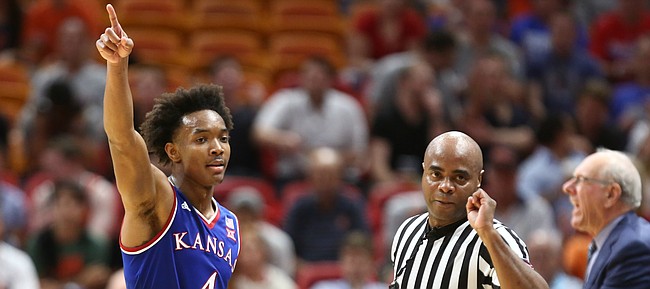 Miami — It takes a lot to impress Miami Heat team president Pat Riley.
He coached Kareem Abdul-Jabbar, Magic Johnson and James Worthy with the Lakers, Shaquille O'Neal and Dwyane Wade with the Heat and Patrick Ewing with the Knicks. He also signed LeBron James with the Heat.
Riley's seen it all, so to catch his attention a college basketball player must do something pretty special.
Riley has a good poker face and used it for much of the first half watching from a court-side broadcasting table as No. 2 Kansas started on its way to a 76-60 grinder of a victory Saturday night in American Airlines Arena.
Photo Gallery
Kansas basketball v. Syracuse (Hoophall Miami Invitational)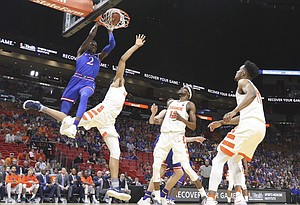 View a gallery of images from the Jayhawks' matchup against The Orange on Saturday, Dec. 2, 2017 at American Airlines Arena in Miami.
But even Riley couldn't keep a straight face watching the shooting exhibition put on by Devonte' Graham, who dropped his second consecutive 35-point game and took control of both halves, knocking Syracuse (6-1) from the ranks of the unbeaten.
Graham made 7 of 13 3-pointers, some from NBA range, and over the final 5:16 of the first half outscored the Orange, 14-4.
Watching Riley watch Graham was almost as enjoyable as watching Graham light up his entire team.
Graham hit his second 3-pointer of the first half with 1:16 left and Riley picked up the game notes in front of him. Graham hit another 3 before the half ended and Riley broke into a smile.
Riley left his seat for halftime and by the time he returned to it, Graham already had hit two 3-pointers. 
Not to worry, Graham wasn't done lighting up the Orange. 
Graham struck from long distance again and Riley turned to Heat and former Syracuse guard Dion Waiters, sitting beside him with his child on his lap, and flashed a huge grin. Riley appeared to very much enjoy what he was witnessing.
Graham hit another long one to put Kansas up 62-47 and Riley, who coached five NBA champions, nodded his head three times and smiled.
Who knows exactly how Riley graded Graham as an NBA prospect, but he clearly looked impressed with the guard's fire, poise and hot shooting.
Graham told teammates at halftime that walk-on Clay Young was the MVP of the first half. Young did come through again for bench-shallow Kansas with nine minutes of strong defense, but Graham wasn't fooling anybody. He was the MVP of both halves and had the MVP plaque as proof after the game.
Graham also posed for a selfie with ESPN analyst Dick Vitale, sitting a few chairs down from where Riley watched the game.
"Graham was really good today and he kept making his shot every time we needed something," Syracuse coach Jim Boeheim said.
Five games into the season, the story line on Graham was that he was doing everything but shooting well. His 3-point percentage had dipped to .287. Two games later, it's .408. He leads the team in minutes (33.6), scoring (18.6), assists (8.0) and steals (.2.3).
A point guard's No. 1 job is to ensure his team gets a good shot every possession. KU didn't get many early against Syracuse's 2-3 zone, so Graham took it upon himself and took over the game.
"The thing with Devonte' is he is a point guard, but he's also a scoring point guard," KU coach Bill Self said. "He's a guy who can score or can make a pass to finish a play. I don't think him taking that many shots is a negative at all, but I don't think it's something that will be a nightly thing. I think we're better when we have balance. But on a night where basically we didn't have much going on he needed to do that. He picked his spots well."
He knows when he needs to give the offense a jolt.
"It's just whatever the flow of the game is. It's just trying to be aggressive," Graham said. "If it's getting into the paint and making plays for others, I'm going to do that every time. My shot just was falling the last two games. The previous games I wasn't shooting really well so it's just good to see the ball go in the hoop."
Graham made 24 of 36 field goals, 12 of 21 3-pointers and 10 of 10 free throws and had 10 assists, eight rebounds, four steals and five turnovers vs. Toledo and Syracuse.
He played all 40 minutes Saturday night and played like an All-American the entire way.
---
More news and notes from Kansas vs. Syracuse
---
---