Miami — Occupying arguably the most important spot in the Kansas offense against Syracuse's dangerous 2-3 zone, junior guard Lagerald Vick delivered a masterful performance in the high post and helped the Jayhawks slug past Syracuse, 76-60, on Saturday night at American Airlines Arena.
Operating like a quarterback making reads down the field or a point guard playing from the inside out, Vick flirted with a triple-double, tallying 20 points, seven assists and eight rebounds in what was arguably the best and most active game of his career.
"I thought he did great," Self said of Vick, who often caught quick passes in the high post without turning around to look at the hoop while maintaining poise and patience in the heart of the zone. "I thought he was better in the second half when he looked at the basket. He's not as big as Josh (Jackson) was, but I think he's pretty good in there."
Using his length, athleticism and eyes that rarely stayed fixed on the same spot, Vick routinely gathered himself before making a move and then attacked the rim, dropping teardrop jumpers through the bucket, dishing to charging teammates for easy dunks or zipping passes out to the wings for open 3-point shots.
Photo Gallery
Kansas basketball v. Syracuse (Hoophall Miami Invitational)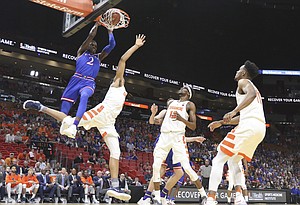 View a gallery of images from the Jayhawks' matchup against The Orange on Saturday, Dec. 2, 2017 at American Airlines Arena in Miami.
"It just felt good making plays for others," Vick said. "I was hitting the wide-open man and just sticking to what Kansas do."
Nice trip
Asked after the game if there was hidden value to the Jayhawks playing in Miami — be it in recruiting or elsewhere — Self said the Jayhawks chose to participate in this game because of the organization hosting it.
"We wanted to do something with the Hall of Fame," said Self, who was inducted into the hall in Springfield, Mass., in September. "And when they picked this site that was positive for us because I (thought) the kids would be excited about coming, even though it's been a real short trip and they haven't had a chance to enjoy it as much like they'd like to.
"Playing Syracuse, playing these neutral-site games, is enough to prepare us for our league and that's the biggest reason we do it. Playing somebody like a Michigan, that plays differently, or like a Syracuse, that plays differently, I think it would help us if we have a chance to play against zone or whatever in the NCAA Tournament," Self added.
The King's (former) castle
Playing in an arena that was at the center of the basketball world for as long as LeBron James was in town was not lost on KU senior Devonte' Graham, who dropped in a career-high-tying 35 points in the KU victory and seemed more than a little excited about doing it in such a special building.
"LeBron's my favorite player," said Graham, a known James supporter. "And just seeing all the stuff with him, Ray Allen, Mario Chalmers, we were just looking at the venue before and stuff like that. I thought we were going to be in the Heat locker room. I kind of got excited about that, but we didn't get to get in there. But it's still nice just to play in these types of arenas."
Preston misses trip
It had no bearing on Saturday's clash with Syracuse, but KU freshman Billy Preston did not make the trip to Miami with the second-ranked Jayhawks.
"Billy practiced with us Friday morning," KU coach Bill Self said in a statement released . "And after practice I learned that his mother was coming to (Lawrence) and would have little opportunity to spend time with Billy due to the Miami trip. I recommended Billy stay back so he and his mom could have some time together considering they have not seen each other in person in a while. Billy will be at our next practice and will be with the team when we go to Kansas City next week. Billy not making the trip has nothing to do with anything other than being able to spend some time with his mother."
The 6-10, 240-pound former McDonald's All-American, has yet to play this season and has been held out of the last five games while KU officials attempt to sort out a compliance issue involving a vehicle he was driving during a single-car, no-injury accident on Nov. 11.
This and that...
Saturday's victory moved Kansas to 7-0 for the first time since the 2010-11 season, when KU opened the season 18-0. Kansas is now 7-0 for the fifth time in the Self era... The series between KU and Syracuse is now even at 3 wins apiece, with KU ending Syracuse's two-game winning streak in head-to-head meetings... The Jayhawks are now 2-0 this season away from Allen Fieldhouse, with both wins coming in neutral-site games against perennial powerhouse programs (Syracuse in Miami, and Kentucky in Chicago).
---
More news and notes from Kansas vs. Syracuse
---
---