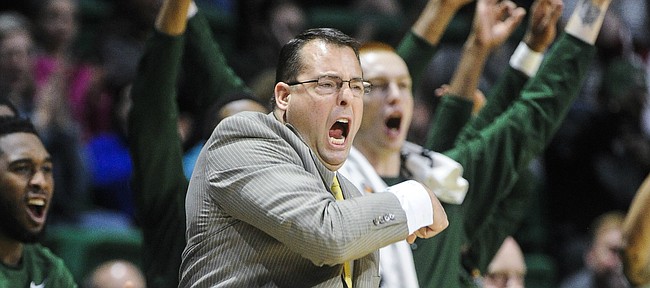 Louisville, Ky. — Former Kansas guard Jerod Haase, the fourth-year head coach at UAB, is one of the leading candidates to fill the Stanford vacancy, CBSSports.com reported Thursday.
Haase, 41, from South Lake Tahoe, Calif., led UAB to a school-record 26 wins against seven losses, this past season. Stanford fired Johnny Dawkins last week after eight seasons.
CBS also reported Stanford is considering hiring former Stanford player Brevin Knight, a broadcaster with the Memphis Grizzlies. Also, former Stanford coach Trent Johnson recently was fired as head coach at TCU.
UAB is scheduled to participate in the CBE Classic next season with KU, Georgia and George Washington. Pairings have not yet been announced.
Photo Gallery
Kansas v. Maryland (NCAA Tournament)
View a gallery of images from the Jayhawks' Sweet Sixteen matchup against the Terrapins.
Of the Stanford rumors, Haase told WJOX radio: "I'm happy (at UAB). I love it here. It is crazy, there are so many distractions all the time. It is something that we're trying to build something here. It's a reflection of what the assistant coaches have done, the student athletes and things like that. ... I think in a lot of different ways, there's a lot of respect and things for what we're doing here, which is good."
Nice town: Self had never taken a KU team to Louisville before this week.
"I haven't been here that often. We played here when I was in college and then I coached here when I was assistant at Okie State, and I've been to the Derby a couple of times. So that's about been my only experiences here in the city," Self said. "But people here are nice, very friendly. And certainly the convenience of having the hotels and everything right here close to the Yum! Center I think is great."
Veterans vs. youth: Self on whether freshman-dominated teams will ever again dominate the Final Four as they did last year with Duke and Kentucky:
Podcast episode
Kansas basketball coach Bill Self answers questions from the media following the Jayhawks' 79-63 victory over Maryland in Louisville, Kentucky.
"I think that we'll see it again. I think a lot of it just depends on good fortune. There's going to be recruiting classes out there that a university is going to get three of the top ten or three of the top 15 players in America, so-called, to their respective school," Self said.
"The way kids are picking schools now, a lot of them want to go with buddies. So that could happen again. Now, the way it happened last year, to have a couple of schools that everything fit perfectly with young kids, I don't think that's the rule. I think that's more the exception. But it will happen again. And there's going to be lightning in a bottle again because some of these young players are so talented. But certainly, for me personally, because I've been on both ends, I'm not sure that there is an exact formula that works better than others. I think talent still prevails more times than not.
"But something about experience and having guys that have really invested into the program, I think, lends itself to having guys prepare on a daily basis because they know this is what it is for them, whereas a lot of time the one-and-done kids know that, hey, this is just a short stop before they move on to the professional level.
"So, I mean, give me the best players. That would be my philosophy. But, certainly, a team like ours right now that you have one senior but you have a bunch of vets that play a ton, I think, is maybe the most enjoyable way to do it," Self added.
Davis talk: KU broadcasting legend Bob Davis arrived at KU during Mark Turgeon's sophomore season.
"Scrappy," Davis said Thursday, asked what comes to mind about Maryland coach Turgeon as a Jayhawk player. "He and 'Pipe' (Chris Piper) were down to Washburn and KU (as their college choices)," Davis added.
Of Davis, who is retiring after 32 years as Voice of the Jayhawks, Turgeon said: "Really not a big fan of Bob's, to be honest with you," he joked. "No. I tell you what, time goes fast. I think Bob was there my sophomore year was his first year at Kansas. Then I hear he's retiring. It goes way too fast. I watched his son, Steven, grow up and be a part of all of it.
"So happy for him. He can go out on his terms. He's been great. He's been lucky. He's got to call a lot of victories. Final Fours, national championships. He's had a nice run. We had a great relationship. I'm happy for him and he's had a great career."
— See what people were saying about the Sweet 16 matchup between KU and Maryland during KUsports.com's live coverage
---
More news and notes from KU's Sweet 16 victory over Maryland
---
More like this story on KUsports.com