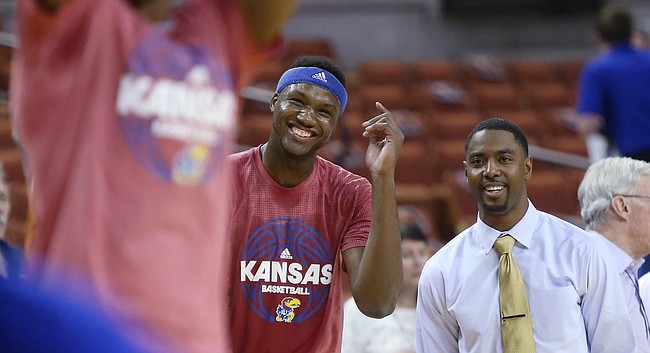 Louisville, Ky. — Like Kansas University's current basketball players, Aaron Miles played in a huge NCAA Tournament game against Maryland.
"No bueno," Miles said with a smile, referring to KU's 97-88 Final Four semifinal loss to the Terps on March 30, 2002 in Atlanta.
Miles, KU's current assistant director of student-athlete development, scored 12 points with 10 assists in that game against the Terps.
The 32-year-old Miles — his pro career is on hold a year at least as he recovers from hip surgery — has enjoyed working with KU's players this season. He's not allowed to coach at practice in accordance with NCAA rules, but certainly can give pointers to the Jayhawk guards now and then.
Photo Gallery
Kansas v. Maryland (NCAA Tournament)
View a gallery of images from the Jayhawks' Sweet Sixteen matchup against the Terrapins.
"One thing I love about this team is something as a player I miss ... that camaraderie, that brotherhood," Miles said. "I have that with our coaching staff. 
"You see them (players) laughing at dinnertime and enjoying each other's company. You see when somebody is having some success they are cheering 'em on and being genuinely happy and caring for them. I think that's huge."
Miles, who along with wife, Mikki, have sons Aaron Jr., Adonis, Asaiah and Avion, last played for a pro team in Russia two seasons ago.
"Aaron was one of the best guards that played at Kansas, I think he's ninth all- time in NCAA history in assists and a big-time winner," KU coach Bill Self said. "He tore his labrum in his hip this past year, and we brought him on to let him do rehab and to kind of learn what coaching is all about.
Podcast episode
Kansas basketball coach Bill Self answers questions from the media following the Jayhawks' 79-63 victory over Maryland in Louisville, Kentucky.
"He's great. He's strictly in an administrative role, but certainly I think having him around has been good with our players just from an approach standpoint. He's not a coach, but I think that he's been really, really good with helping guys kind of understand from a mindset what it takes to be a really good player at this level."
Of Miles, soph Devonté Graham said: "He's helped me out a lot. He's one of the guys that just comes and talks to me, just about life, other than basketball. He texts me all the time, just about the game, how I feel. During the game he talks to me. What am I seeing on the court? 'Is there anything you think we can run that will get us a bucket?' Just trying to help me out. Noticing things on the court. Putting guys in position to where they can score and try to figure stuff out like that."
— See what people were saying about the Sweet 16 matchup between KU and Maryland during KUsports.com's live coverage
---
More news and notes from KU's Sweet 16 victory over Maryland
---