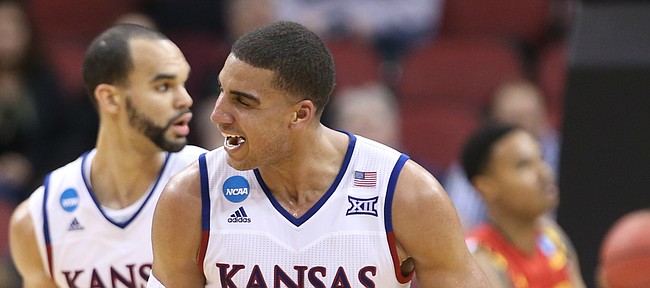 Louisville, Ky. — He beat out a pair of McDonald's All-Americans in practice daily to earn a spot in the starting lineup, so it probably shouldn't come as a surprise that Landen Lucas beat up another hamburger All-American to help Kansas University advance to the Elite Eight.
Maryland freshman Diamond Stone showed early why he projects as a one-and-done, first-round talent and Lucas proceeded to take him right out of the game so that he could do what he does best, dominate the boards.
On a night Perry Ellis demonstrated so many different ways to score on his way to 27 points and Wayne Selden Jr. (19 points, seven rebounds and six assists) put his boundless competitive spirit and basketball versatility on display, Lucas made sure it wasn't all for naught.
Stone, a 6-foot-11 post player with fancy footwork and soft hands, scored just one of his five points in the second half. Meanwhile, Lucas kept absorbing blows without backing down, and by the time the day was done, he had produced 14 points and 11 rebounds.
Photo Gallery
Kansas v. Maryland (NCAA Tournament)
View a gallery of images from the Jayhawks' Sweet Sixteen matchup against the Terrapins.
Lucas knows his shooting range — point-blank — and stays within it. He made 6 of 7 shots and put back his only miss for a bucket.
Even though those numbers sparkle, it's how teammates' numbers grow when he's on the floor that earned Lucas the starting spot a third of the way into Big 12 play and it has played such a huge part in KU's 17-game winning streak.
Ellis, a scorer with so much artistry to his game, flourishes when he has Cool Hand Luke, his cerebral bouncer, by his side.
"Landen makes it easy for Perry to play because he understands Perry's game," Kansas coach Bill Self said. "Landen's strengths allow Perry to play to his strengths, as well."
Podcast episode
Kansas basketball coach Bill Self answers questions from the media following the Jayhawks' 79-63 victory over Maryland in Louisville, Kentucky.
Self gave freshman Cheick Diallo and senior Hunter Mickelson chances to win the starting center job, but the rest of the lineup played better with Lucas on the floor, even when the junior from Portland, Oregon, was missing easy shots and piling up quick fouls.
"It's not the other guys' fault," Self said. "It's just we need to play somebody that gives Perry a chance to be as good as he can be."
Ellis so stresses out defenses, even when the defenders stick to the scouting report, that it sometimes results in Lucas having the space to get a few steps of steam up on his way to a lob dunk.
"I'll take it," Lucas said of his points. "That's a credit to my teammates. They give me the ball in good positions. That's the way I score, off of those guys. I focus on defense and rebounds but if they're giving me the ball close to the hoop like that, I can finish, then I'm definitely happy with that, too."
Self spoke to the role Lucas' intelligence plays in his game.
"Landen is as bright as any player we have, maybe the brightest as far as basketball IQ," Self said. "Late clock, he'll know how to set a fade screen to get a guy a short or against a zone or whatnot."
That basketball brain comes in handy defensively, as well, as Lucas showed in shutting down Stone, Maryland's second-leading scorer.
"I had watched some tape on him so I kind of could tell what he liked to do and I knew I could be physical with him if the refs allowed it," Lucas said. "That's what I tried to do.Then in the second half, I knew he liked to lower his shoulder a lot, so there was an opportunity to pick up a charge."
He makes it look as easy as he makes it sound.
Thanks to players such as Lucas and Selden doing the dirty work so well, the rest of the players on the court with them become more entertaining as their creative juices flow.
Kansas (33-4) didn't look so pretty in the first half, but performed the dirty work well enough to take a two-point lead into the locker room.
"We stayed in the game by playing defense in the first half and in the second half, we knew we could create some separation with a nice little run and we did that," Lucas.
As a result, top-seeded Kansas advanced to the Elite Eight, where No. 2 seed Villanova (32-5) awaits for what promises to be a highly competitive, entertaining show.
— See what people were saying about the Sweet 16 matchup between KU and Maryland during KUsports.com's live coverage
---
More news and notes from KU's Sweet 16 victory over Maryland
---
More like this story on KUsports.com