Fort Worth, Texas — Finally, thousands of people across Texas and Oklahoma, West Virginia and Iowa are getting their wish this winter. They take solace in the knowledge that Kansas University senior Perry Ellis never again will step into their houses.
Oh, he's a polite guest. Never does anything to show up the opposition or call attention to himself, but he's just so difficult to keep from doing what he wants to do, from acting as if he's playing in his own house.
Working toward first-team All-Big 12 honors, Ellis again stood out for Kansas, totaling 23 points, 10 rebounds, three assists and two blocked shots in the Jayhawks' 75-56 victory at TCU.
On a day that Jamari Traylor took more rebounds off the offensive glass (five) than any Horned Frog had at that end of the floor, a day Devonté Graham juiced teammates with floor burns and net burns, Ellis remained the focal point of the opposition's defense and the main source of frustration for the losing team.
Photo Gallery
Kansas basketball v. TCU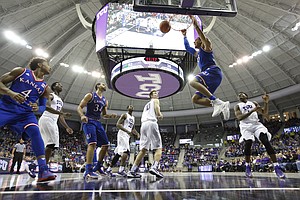 View a gallery of images from the Jayhawks game against the Horned Frogs at Schollmaier Arena in Fort Worth, Texas.
Ellis left an impression on the Horned Frogs in an area that doesn't get discussed as often as most of his other winning traits.
Asked what made Ellis so tough, TCU's Brandon Parrish said, "I think his strength more so than anything. He might not look like the strongest guy, but I think pound-for-pound he can bang with anybody. He's relentless on the offensive glass. If he's going to miss he's going to jump right back up and try to rebound it. And he's real quick off his feet."
Ellis made 11 of 14 shots and misfired both of his three-point shots. He rebounded his only miss inside the arc.
"Ellis was really dominant in the paint," Parrish said. "I feel like we almost couldn't stop him. He drove them today."
TCU coach Trent Johnson talked about more than Ellis' fancy footwork and soft shooting touch, as well.
"The upperclassmen in this league have really improved," Johnson said. "Yeah, they're all skilled, but they're tough. Tough kids. Perry Ellis is like a polished pro. He's been around a long, long time. (Oklahoma's) Buddy Hield, he is who he is. (Baylor's) Taurean Prince, he's tough, tough, he's skilled, but he's mentally tough."
Tough seniors, more than anything, make the Big 12 a tough league.
Ellis has been in the league forever, but has too wide an array of scoring methods for his longevity to make him easy to scout. He plays even better against Big 12 competition than in non-conference games. At the halfway point of Big 12 play, Ellis is averaging 19.4 and 7.2 points in conference games. If you watch closely, he's even playing with a little more volume to his game. In the victory against Kansas State, he took the ball behind his head and slammed it through the hoop. Late in Saturday's blowout victory at TCU, he was going to lay it off the glass but at the last instant decided to flush it with his right hand.
Still, more than anything, it's his substance, not his style, that makes another Big 12 title possible for the player who won four state titles playing for Wichita Heights.
— Tom Keegan appears on The Drive every Sunday night on WIBW-TV.
— See what people were saying about Kansas at TCU during KUsports.com's live coverage.
---
More news and notes from Kansas at TCU
---
---
---