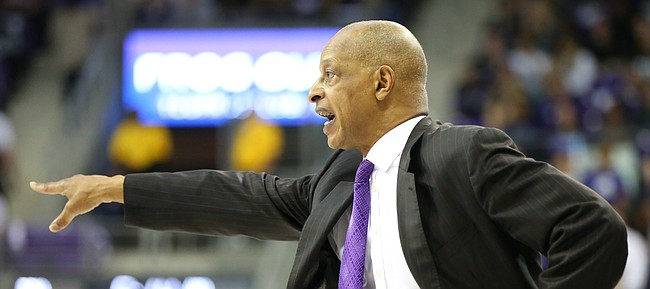 Fort Worth, Texas — Facing some of the same challenges Kansas University does in football, TCU's men's basketball program continues to have a difficult time escaping the basement of the loaded Big 12.
Saturday's 75-56 loss to Kansas left the Horned Frogs with a 7-57 Big 12 record, including 1-9 in this, the school's fourth season in the conference.
Climbing up a conference's standings is easier to do if others are falling and that hasn't been the case in the Big 12.
"I'm definitely surprised," Horned Frogs senior Brandon Parrish said. "It's something I'm surprised about day in and day out, my record as a Horned Frog."
Photo Gallery
Kansas basketball v. TCU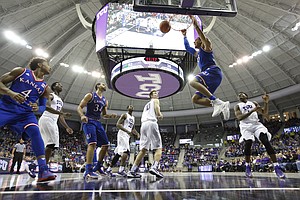 View a gallery of images from the Jayhawks game against the Horned Frogs at Schollmaier Arena in Fort Worth, Texas.
Parrish spends more time thinking about things such as how to avoid losing the battle of the boards, 46-25, in the fashion the Horned Frogs did in Saturday's game.  
"It's something I don't think about for a long period of time, because I feel like it's not healthy to do that," Parrish said of TCU's failure to climb up the standings. "We all want to see this thing go in the right direction, more so than anything. Whether that's winning or losing, you have to go out there every night and fight. In a game like this, we didn't really show much fight. It's not a good look on us and it's not a good look for the program."
TCU coach Trent Johnson summed up the game that never was close succinctly: "They were right, and we knew they would be. They were right and we had no fight."
KU's 1-3 Big 12 road record heading into the 11 a.m. tipoff was not lost on the Horned Frogs.
"We came in pretty confident, playing an early game and they really hadn't been playing real well on the road," Parrish said. "We came in confident that we could get a 'W' if we executed our offense and defended well."
Kansas defended extremely well and didn't let the Horned Frogs find high-percentage shots.
Parrish said he thought the big crowd, almost half of which rooted for Kansas, led to poor play from the home team early.
"It was a big game, nice crowd," Parrish said. "We played with too much emotion and couldn't execute our offense."
TCU has given Kansas coach Bill Self tough battles in the past, but not on this day. Asked for his take on TCU's struggles, Self pointed to the season-ending September knee surgery to last season's leading rebounder and best defender, Kenrich Williams.
"I'm not down here in the middle of it, so I don't know," Self said. "I know I'm a big Trent fan. And Kwanza (Johnson, TCU assistant) was on my staff at Tulsa, so I love Kwanza. The thing is, I've been through it down at Oral Roberts, when we lost 18 in a row. It's hard to get over the hump and it seems like right when you're getting close something negative can happen. The injury they had before the season was a big loss. And when you're fighting that uphill battle, there's less margin for error. 
"And you need some positive momentum things to happen. From the outside looking in, to me, the program's in much better shape if you look at the beautiful facility you'll be able to recruit to and they've got good young players. I think they're continue to get better, but you've got to stay healthy and they haven't."
— See what people were saying about Kansas at TCU during KUsports.com's live coverage.
---
More news and notes from Kansas at TCU
---
---
---