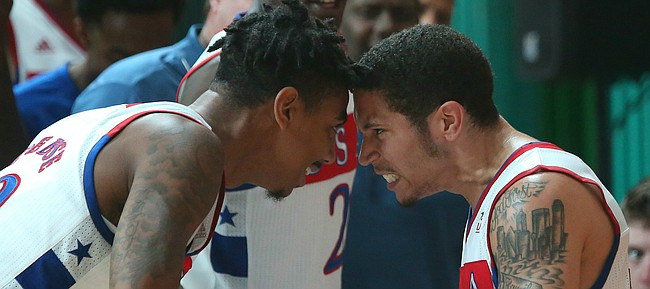 Gwangju, South Korea — Florida Gulf Coast senior guard Julian DeBose and SMU senior guard Nic Moore joined Kansas University in representing the United States' men's basketball team this summer at the World University Games following injuries to Jayhawks Brannen Greene and Devonté Graham.
Both KU fill-ins were thrilled to represent their country and learn from their short-term teammates. 
DeBose averaged 4.0 points and 2.3 rebounds at the international competition, scoring a team-high 18 points against Switzerland in pool play. 
"Just learning leadership from these guys," DeBose said of one of the biggest benefits of the experience. "This year I'll be a senior at Florida Gulf Coast. … I'm learning how to lead as best as I can. Learning what it means to just be there for your guys. I'm going to take that back as much as possible."
Moore, the reigning American Athletic Conference player of the year, started every game in South Korea, alongside junior point guard Frank Mason III and junior guard Wayne Selden Jr. in the backcourt. Moore averaged 6.8 points and 3.0 rebounds per game. He was second on the squad with 15 steals and 20 assists in eight games. 
Despite his slumps shooting the ball (18-of-64, 28 percent), Moore continued to find ways to contribute. 
"My shot ain't going to dictate how I play," Moore said. "I'm always going to give it my all, regardless, if my shot is going in or not. I got some steals late in the game, so I feel like that helped just as much as knocking down a shot."
After earning the gold with their new teammates on Monday, Moore and DeBose were all smiles on the medal podium and in the locker room. 
"I had a great time," Moore said. "It was a lot of fun." 
Kansas coach Bill Self added: "Nic and Julian have fit in great. We couldn't have taken two better kids over here to fit in with everybody else."
---
More news and notes from today's KU in Korea coverage
---
— Check out all of KUsports.com's exclusive KU in Korea content, from Bobby Nightengale and Mike Yoder.