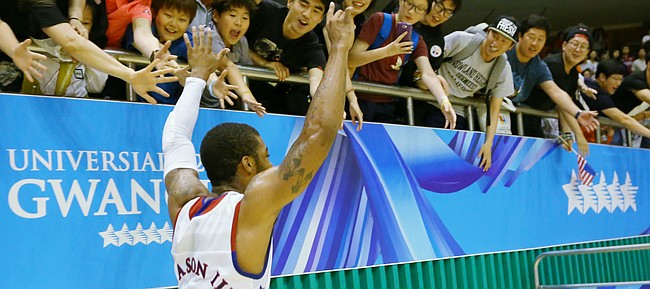 Gwangju, South Korea — Kansas University junior point guard Frank Mason III was confident in the final minutes of the United States' men's basketball team's 84-77, double-overtime victory over Germany on Monday at Yeomju Gymnasium. 
His teammates were even more confident. 
Mason tied the game with two free throws near the end of regulation and made a game-tying layup in the first overtime. He assisted on the go-ahead bucket, a three-pointer by Kansas junior guard Wayne Selden Jr., in the second overtime. 
"Frank is a dog. I already know he's going to do something good with it," SMU senior guard Nic Moore said. "Once he made that layup (to tie the game at the end of the first overtime), I already knew he was going to keep it going for us and just pull it out for us."
Mason finished with 18 points, nine rebounds, six assists and two steals in 39 minutes Monday. He led every player in the tournament, averaging 4.4 assists per game, was third with 2.5 steals and finished fifth with 14.5 points per game. 
"I'm here in my junior season," Mason said. "Been through a lot throughout my two-and-a-half years at Kansas. I had a lot of confidence."
Mason, who played the entire tournament with a sore right wrist — his shooting hand — shot 46 percent on Monday (6-of-13). He saved his biggest buckets for crunch time to no surprise of his teammates. 
"I've seen him," Kansas senior forward Perry Ellis said. "Over the course of the years, I've seen him do it. We all got confidence in him. We know he can do it. We're comfortable with him with the ball in his hands at the end."
Mason's play lifted the Jayhawks to a gold medal, but also gave them plenty of excitement when thinking about the upcoming season. 
"Ever since the season ended, we've been playing with a chip on our shoulder," Selden said. "We're so excited we got to play this summer. We didn't have to wait for the whole season. We just wanted to show that out here."
---
More news and notes from today's KU in Korea coverage
---
— Check out all of KUsports.com's exclusive KU in Korea content, from Bobby Nightengale and Mike Yoder.