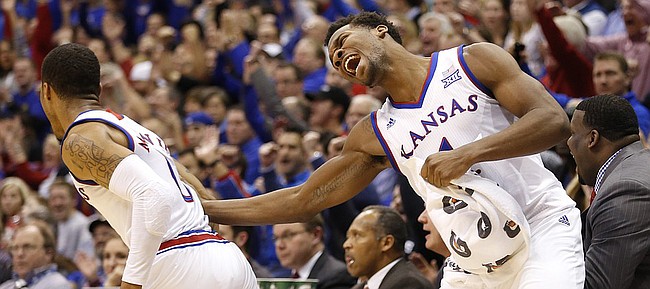 The result — a 10-point victory over Oklahoma State — was about the only aspect of Tuesday's 2 hour, 27 minute basketball game that proved satisfying to Kansas University's tough taskmaster, Bill Self.
"It was a bad game, a long game," Self said of a 67-57 victory over his alma mater in Allen Fieldhouse. 
"The only thing that was good tonight is we won. It took forever to play. Good thing I didn't drink a lot of water at halftime or I'd have been in trouble," he added, smiling.
Photo Gallery
Kansas basketball v. Oklahoma State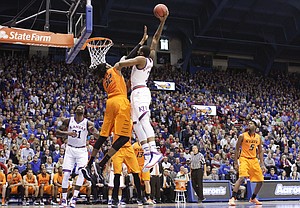 Images from Tuesday night's game between the Jayhawks and Cowboys at Allen Fieldhouse
Podcast episode
Kansas University basketball coach Bill Self speaks with the media following the Jayhawks' win over Oklahoma State, a game Self described as both "long" and "bad," due to the lack of flow.The KU coach said he was discouraged by the technical fouls his team picked up, as well.
Podcast episode
Kansas University basketball players Frank Mason III, Cliff Alexander and Kelly Oubre Jr. meet with the media following the Jayhawks' 67-57 home win over Oklahoma State. The Jayhawks discuss the technical fouls, the style of the game and Alexander's highlight jam.
KANSAS 67, OKLAHOMA STATE 57
The lengthy foul-fest — KU hit 32 of 46 free throws to OSU's 22 of 25 — definitely could be classified as one of those "ugly" victories teams have in the course of a marathon season.
"It didn't have it all. It didn't have any good play," Self said of a game in which the (14-2, 3-0) Jayhawks out-rebounded the (12-4, 2-2) Pokes, 43-26, while holding OSU to 31.4 percent shooting.
In all, there were 49 fouls, including technicals on KU's Cliff Alexander and Jamari Traylor and OSU's Le'Bryan Nash.
"That was some crap play by us and I don't think Oklahoma State played particularly well either. We got to the line. We didn't shoot a good percentage (69.6 from line, 37.2 from field). We didn't play with any poise or composure the first half when we had a chance to crack the game. 
"It would be hard to pick a player of the game tonight," Self added after a contest in which Frank Mason III scored 16 points and grabbed nine rebounds. He hit nine of 11 free throws. "We didn't play as a team. The ball stuck. It was probably a step backward tonight in my opinion."
Self was not pleased with the first-half technical fouls.
First, Alexander (seven points, three boards, 16 minutes first half; zero points, two boards, five minutes second half) was hit with a "T" for flexing his muscles and woofing near the OSU bench after flushing a vicious one-handed dunk with 13:50 left in the first half.
"I don't know why it was a 'T.' I was talking to Frank during the time. All I told him was 'Turn up,''' Alexander said, describing his dunk as "ferocious." "They had to be thinking I was talking to the (OSU) bench. I wasn't talking to the bench."
Self wasn't a fan of the flexing which led to the "T."
"Why do you get a 'T' over this? Act like you've at least been there before. Unbelievable and it counts as a personal foul," Self said. "Cliff's was bad; Jamari's was worse. That was discouraging to me."
Traylor and OSU's Nash (21 points, 19 second half) were whistled for a double technical with 12:11 left in the half. 
First, Kelly Oubre Jr. (14 points, six boards, 35 minutes) bumped into Nash. Nash pushed Oubre and was tooted for the automatic technical foul. 
Traylor and Cliff Alexander then took turns screaming at Nash, Traylor receiving the technical and saving Alexander his second "T" and an ejection.
"We brought our mouth into play, which was disappointing on that deal. It wasn't the refs' fault. It was our fault," Self said.
KU, which led, 32-28, at halftime, outscored the Pokes 35-29 the final half.
"We did a great job on Forte," Self said after the 5-foot-11 junior guard hit for just two points the second half off 1-of-2 shooting in 16 minutes. He had 16 points the first half off 3-of-6 shooting (9-9 from line). "Wayne (Selden Jr., six points, three boards) and Devonté (Graham, nine points, three assists) did a good job on him. He didn't shoot a free throw the second half, which was big. He will not miss free throws," Self added.
Nash, who was guarded by Oubre and Perry Ellis (seven points off 1-8 shooting with eight rebounds)  scored 19 of his 21 points the final half, hitting five of 10 shots and nine of 10 free throws after cashing two points in 18 minutes the first half.
Self used Landen Lucas (four points, four boards) for 12 minutes the second half with Traylor, Ellis and Alexander in foul trouble. Alexander didn't return, in fact (coach's decision), after picking up foul No. 3 with 14:08 left.
"Landen gave us good minutes," Self said. "Our team played well with Landen in the game. No reason to take him out. It had nothing to do with Cliff playing poorly. It was a coach's decision at that moment."
Of the night, in which KU held a game-high lead of 11 points (with 8:57 left) Self stated: "This will be a great game to watch as a group and learn from. I don't think anybody in our locker room is leaving giddy after that game."
KU will next meet Iowa State at 8 p.m., Saturday, in Ames, Iowa.
---
More news and notes from Kansas vs. Oklahoma State
---
More like this story on KUsports.com