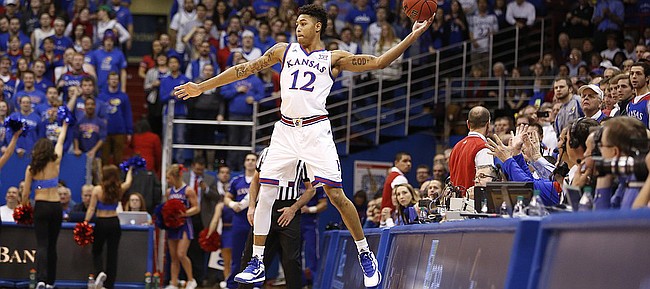 All the players and all the spectators who spent Tuesday night inside hotter-than-usual Allen Fieldhouse are at risk of hearing whistles for days. That's what invaded their ears all night and they weren't of the wolf variety.
Ref's whistles, too many of them, gave the game a feel of a faucet being turned on, then off, then on, then off.
In part, Kansas University freshman Kelly Oubre Jr. can be thanked for the ugly play, because his contributions at both ends. When he saw a clear path to the lane, he drove there and defenders fouled him. Another stoppage in play on the way to KU's 67-57 victory against Oklahoma State.
At the defensive end, Oubre played a role in the Cowboys so often looking so unsure of themselves. Oubre stands 6-foot-7, but is armed with a 7-2 wingspan. Mix in quick feet and it makes for a defender who can alter passes the way a long-armed leaper blessed with good timing can change shots.
At times, you can almost read the mind of a ball-handler from a KU opponent: "Where's Oubre? Where is he?"
It looks that way at times because Oubre is trying to make it look that way all the time.
"I try to get out in the passing lanes, alter their passes, make them go a step further out away from the scoring area," he said. "Just throw off of their offense a little bit."
Oubre has 17 steals in 283 minutes. KU's other three wings — Brannen Greene, Sviatoslav Mykhailiuk and Wayne Selden Jr. – have combined for 18 steals in 936 minutes.
Oubre had his rough moments Tuesday, as illustrated by his four turnovers. So did just about everyone else from both sides. Oubre also contributed 14 points, six rebounds, three assists, a blocked shot and two steals. He made just 7 of 12 free throws, cheating himself of a big scoring night. Still, he reached double figures for the fifth time in the past seven games.
He has a hunger to score, all right, but his emotions run higher when makes a defensive play. He takes more pride in disruptively influencing a game.
"Definitely, I do," Oubre said. "I know that my defense controls my offense, so once I'm locking in on defense and getting my intenstity up on the defensive end and getting stops, that's what leads to my scores."
Oubre kept his cool at a time when Oklahoma State's Le'Bryan Nash gave him reason to lose it. Oubre and Nash bumped into each other in front of the KU bench and Nash put his palms into Oubre's chest and gave him a little shove, earning a technical. Jamari Traylor and Cliff Alexander, one technical foul away from an ejection, got into Nash's face and barked. The ref called a technical on one of the players. After a look at the monitor, the technical was given to Traylor.
"It kind of motivated us to play our game on the defensive end," Oubre said.
As for the other end, at which KU shot .372 overall, .250 from three and .696 from the line and committed 16 turnovers, Oubre said,  "The game was so amped us for us we kind of lost our heads."
Fellow freshmen Alexander and especially Devonté Graham again made big contributions on a night sophomores Perry Ellis and Selden continued their offensive struggles, combining to make 3 of 15 shots. Ellis had five turnovers as KU improved to 14-2 overall and 3-0 in the Big 12. Oh well, many in sports believe it takes a particularly ugly one to bust a slump and both players had ugly ones.
For Oubre, the way to avoid shooting slumps starts with denying the other team points.
"My goal is to be a great defensive helper or great defensive stopper," Oubre said.
---
More news and notes from Kansas vs. Oklahoma State
---
More like this story on KUsports.com