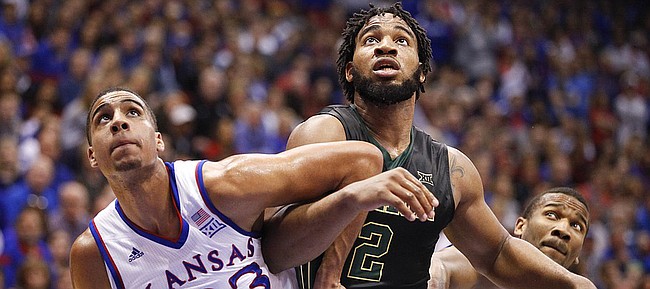 NBA veteran Nick Collison spent some time on Kansas University's campus last fall, playing pick-up games with members of the 2014-15 Jayhawk basketball team.
The 6-foot-10, 255-pound Oklahoma City Thunder forward and No. 2 scorer in KU history often found himself matched against 6-10, 240-pound KU sophomore Landen Lucas.
"I really liked his game," Collison reflected after watching Portland, Oregon native Lucas tie a career high with nine points — seven during a crucial 12-minute second-half stretch — and grab four rebounds while also guarding Rico Gathers in the Jayhawks' 74-64 come-from-behind victory over Baylor on Saturday in Allen Fieldhouse.
Photo Gallery
Kansas basketball v Baylor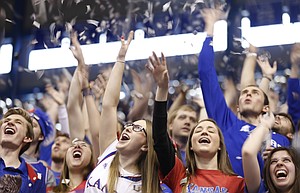 Images from Saturday's game between the Kansas Jayhawks and Baylor Bears at Allen Fieldhouse.
Podcast episode
Kansas basketball coach Bill Self answers questions from the media, following the Jayhawks' 74-64 home win against Baylor. Self credits backup big man Landen Lucas for knowing how to play versus a zone, and Kelly Oubre Jr. and Wayne Selden Jr. for carrying KU at various junctures.
Podcast episode
Kansas basketball players Perry Ellis, Kelly Oubre Jr. and Landen Lucas field post-game questions from the media, following the Jayhawks' 74-64 home win over Baylor. Ellis says Lucas helped Kansas get over the hump against BU's zone.
KANSAS 74, BAYLOR 64
"I thought he was great today and coach ran with him. Coach rode him late, let him play through some mistakes. I think he'll be good going forward the rest of the way," added Collison, who watched the game from his seat behind the KU bench, taking advantage of NBA All-Star break to catch a game at his alma mater.
"They've got a lot of guys who can play. They just need the opportunity to go. He made the most of his opportunity," Collison added of Lucas.
Lucas scored five points in a 10-0 run that turned a 49-45 deficit (at 9:49) into a 55-49 lead at 8:07 in the second half. First he rebounded a Brannen Greene miss, scored and hit a foul shot to open that run at 9:25. He swished two free throws after two makes by Devonté Graham, giving KU a 52-49 lead at 8:46.
Lucas dished a perfect touch pass to Perry Ellis (18 points, six rebounds) then hit a 10-foot jumper to give the Jayhawks a 61-57 lead at 4:01. Gathers then plowed into Lucas on a charging call, Ellis scoring again on the ensuing possession to give KU a six-point advantage.
"I hoped I'd get a chance to get out there and go against Rico (18 points, eight boards). I did," Lucas said of 6-8, 275-pound junior Gathers "You never know how the flow of things are going. When I got in, he (coach Bill Self) rode with me for a while."
Lucas has played double-digit minutes in the last four games after not playing at all in three of four contests.
"I mean it's definitely not the easiest thing. It's a learning process through it all," Lucas said of waiting for minutes. "There are a lot of ups and downs, but I'm just trying to stay positive. I talk to coach. He always makes sure we stay positive, stay ready. Whether I play or don't play, I'm always ready. When I get in, I just try to do my best."
Self said Lucas, "was great. We went with him the second half. He does work hard. To me, Cliff (Alexander, four points, five boards) is ahead of him but there are certain things within a game Landen does better than any big guy we have, because he understands the game better than any big guy we have. In a game like this, he's so smart, so good against the (BU) zone. Landen has kept a good attitude. He knows his number will be called."
Lucas went 5-of-5 from the line on a day KU hit 24 of 29 free throws. He's made 15 of 17 charities in Big 12 play after going four of 11 from the line in non-conference contests.
"I shortened it up, there's less thinking and stuff," Lucas said of his free throw form. "I got out there, took a couple dribbles, shot it. It's the way I did it in high school. I used to be a pretty good free-throw shooter, so I just went back to my own ways."
He grinned when asked if he was extra-fired up playing before 11-year NBA player Collison, as well as Joel Embiid of the Sixers and Ben McLemore of the Kings, who also attended.
"It's great to have them around. I think we try to play hard all the time, but it's great to put on a show for them. We know what they represent is the history of this program," Lucas said.
Kelly Oubre Jr. scored eight of his 18 points the final half and Ellis 10 of his 18 the final 20 minutes. Wayne Selden Jr., finished with 15 points, 12 the second half.
The Jayhawks trailed by as many as 13 points the first half (23-10 at 11:57) and needed a 24-10 run to turn a 49-45 deficit into a 69-59 lead in the final stanza.
"Obviously we didn't come ready to play and they came really ready to play," Self said after his squad improved to 21-4 overall and 10-2 in the Big 12. Baylor fell to 18-7, 6-6.
"The biggest thing ... the second half they shot a low percentage (30.8). We did a much better job on the glass (17-12 KU advantage the second half after BU's 21-15 margin the first half). We attacked their zone better the second half. They played their zone totally different this time (than in KU's 56-55 win on Jan. 7 in Waco). They took away the middle, kept a guard in there. They didn't do that the first time. We labored and struggled (being down 33-27 at halftime). I won't say we figured it out but we did a much better job attacking it the second half," Self added.
KU will next meet West Virginia at 8 p.m., Monday, in Morgantown, West Virginia.
---
More news and notes from Kansas vs. Baylor
---
More like this story on KUsports.com