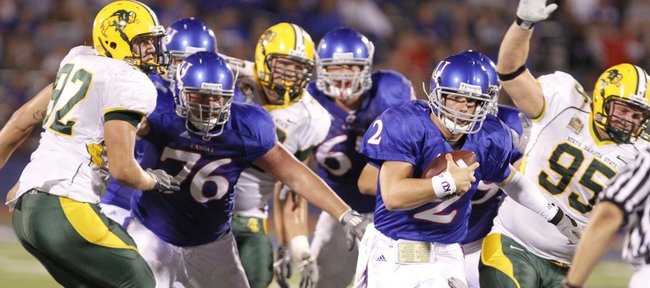 KU vs. NDSU
Audio clip
KU coach Turner Gill talks after the Jayhawks' 6-3 loss
Audio clip
KU quarterback Jordan Webb says he could feel NDSU's momentum building throughout the game
Feature
Live updates from the Newell Post Live, coming to you from Memorial Stadium where the Kansas Jayhawks are taking on the North Dakota State Bison.
Call me an eternal optimist, you always do, but I'll say it anyway: Despite an embarrassing, historically bad loss in Saturday evening's season-opener to a Division I-AA football school, I still believe Kansas University can get to four victories this season.
But it's going to take Turner Gill to remedy immediately a talent-evaluation mistake for the Jayhawks to have any shot at winning four of the remaining 11 games on a tough schedule.
No, we're not talking about a quarterback controversy centering on Kale Pick and Jordan Webb. Instead, a running back controversy needs to percolate, and it needs to be a very short one.
Toben Opurum, the team's most talented offensive player, is a linebacker-in-training now. He watched from the sideline as KU's depth-challenged linebacking crew performed well in the 6-3 loss to North Dakota State, and he watched running backs without his ability to carry multiple defenders on his back search for daylight and find none.
Opurum carries the ball straight up the gut 30 times Friday night, and Kansas scores at least two touchdowns. Period. He generates so much power by keeping his legs churning, he doesn't need as much help from blockers as most ball carriers need.
The absence of Opurum from the offensive huddle cut the deepest when KU had the ball on its 40 early in the second quarter after Pick and Angus Quigley hooked up for a 20-yard reception and Daymond Patterson had a nine-yard run. On second-and-one, Deshaun Sands was stopped for no gain. On the next play, Quigley lost a yard.
And Opurum watched. And so many among the 48,417 who showed up in anticipation of watching KU beat up on a sparring partner had to wonder just where the Opurum train that appeared headed to stardom before his injury in Austin last fall went off track.
Sands and Quigley combined for 34 yards on 17 rushes. Jeremiah Hatch, once the best blocker in the program and now out of shape, didn't play a snap.
"Again, I probably have to watch it on tape to really get a true evaluation," Gill said, asked how much the running woes could be traced to poor blocking. "Some of it was their defense. I want to give them some credit. I think part of it might be our backs reading, whether they hit the right holes or not. I don't know. It's hard to tell on the sideline, from that standpoint."
I had to know, so I asked Gill if he might consider moving Opurum back to offense.
"No, that's not on my mind, unless something overnight comes and hits me there," Gill said, smiling.
I fear this newspaper hitting his front porch wasn't what he meant. Maybe he'll dream about Opurum playing a wrecking ball with the Rambling Wreck of Georgia Tech defenders bouncing off of him Saturday at Memorial Stadium, the way Darrell Arthur once dreamed of playing basketball for KU, hours after he was on the verge of committing to Baylor.
Doubtful. For some reason, this staff doesn't seem to like Opurum as a running back.
Opurum could have compensated for so many sins — undisciplined penalties, three turnovers, dropped passes, a blocked punt and generally sloppy play — but never got that shot.
Gill, an easy-to-root-for gentleman, is not the only recent KU coach to have a losing debut. Mark Mangino lost his, 45-3, at Iowa State. Glen Mason lost at home to Baylor, 27-14. Bob Valesente lost at home to North Carolina, 20-0. Northern Illinois spoiled Mike Gottfried's debut in Lawrence, 37-34.
Still, Gill's easily ranks as roughest, thanks to the abundance of spills, the shortage of thrills and the low profile of the plucky opponent.
The loss puts Gill in a tough spot, given that he follows a coach fired two years after a 12-1, Orange Bowl-winning season, and given that Lew Perkins, the man who hired him and a close friend, has lame-duck status.
Opurum is Gill's ticket to hope. Punch it, Turner, punch it and this team in need of smelling salts will get its legs back.