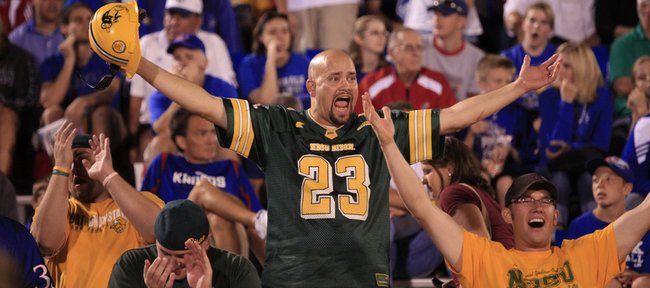 KU vs. NDSU
Audio clip
KU coach Turner Gill talks after the Jayhawks' 6-3 loss
Audio clip
KU quarterback Jordan Webb says he could feel NDSU's momentum building throughout the game
Feature
Live updates from the Newell Post Live, coming to you from Memorial Stadium where the Kansas Jayhawks are taking on the North Dakota State Bison.
North Dakota State's football players stood on benches in the visitor's locker room at Memorial Stadium, loudly singing the school's fight song while hugging and high-fiving each other.
N.D. State — a Football Championship Subdivision school (formerly known as Div. I-AA) — had just knocked off Football Bowl Subdivision (I-A) giant Kansas University, 6-3, in the season opener for both teams.
"I don't remember the last time I've been that happy," said junior defensive end Coulter Boyer, who had six tackles, a fumble recovery and a huge pass deflection that stalled one of KU's rare potential scoring drives.
"We were coldblooded gentlemen before the game, and then afterwards we couldn't be more happy," added the 6-foot-4, 245-pounder from Hurley, S.D.
He was a red-shirt freshman when the Bison beat Big Ten school Minnesota, 27-21, in Minneapolis.
"Equally as huge," Boyer said of Saturday's victory over a Big 12 team. "We always believed this was a winnable game. In fall camp we really grinded it out. We got in good shape. We were focused."
Sophomore quarterback Jose Mohler — he completed 12 of 22 passes for 95 yards with one interception — was at La Costa Canyon High School in Cardiff, Calif., back when the Bison stunned the Golden Gophers.
"It's bigger," the happy QB said of Saturday's victory, while admitting the win over the Gophers was impressive as well. "It was highly publicized. It's probably one of the reasons I came to the school."
Bison coach Craig Bohl, who has recorded victories over FBS teams Ball State and Central Michigan while losing once to Minnesota, as well as Wyoming and Iowa State, said this one, "is a little bit different (from Minnesota game). Many of our players are from the state of Minnesota.
"We have a great deal of respect for (KU coach) Turner Gill. He will do a super job with this program. It's a good win for us."
Bohl, who like Gill is a Nebraska graduate, was not surprised by the outcome.
"We felt we could beat them when we hopped on the plane," he said. "It wasn't a real pretty game. I felt during the course of the game when we began to control the line of scrimmage we would really have a shot at winning the ballgame.
"Our guys expected to win the game. I expected to win the game. We played hard and were fortunate to win."
The Bison held KU to 293 yards while mustering 168.
"I thought our front seven did a nice job," Bohl said. "I know they talked about the strength in their offensive line. Quite frankly, we feel we have a good defensive line and linebackers. All seven of our front guys are back. That certainly helped."
Yet the Bison, who went 3-8 last year (2-6 in Missouri Valley Conference), played several inexperienced guys as well.
"We had somewhere ... almost 40 percent of these kids never played in a college football game," Bohl said. "We've got some young talent out there. We're really encouraged. We've got some work to do."
The Bison open league play next week.
"We've got Northern Iowa next week. I know Kansas knows about Northern Iowa. We've got to get ready for the Missouri Valley Conference," Bohl said.
Northern Iowa knocked KU out of last year's NCAA basketball tournament.
Speaking of basketball, the Jayhawks beat Ben Woodside and N.D. State by 10 points in the 2009 NCAA Tournament.
"That one was close. The Bison couldn't pull it out, but I was there," QB Mohler said of the first-round hoops tourney game in Minneapolis.
More like this story on KUsports.com