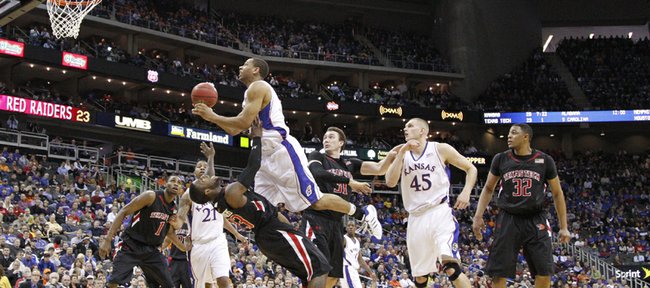 Looking ahead
Today's Kansas University-Texas A&M; game marks the second meeting between the teams this season. The Jayhawks (30-2) stopped the Aggies (23-8), 59-54, on Feb. 15 in College Station.
"We were fortunate to win the first time," KU coach Bill Self said. "We didn't play great. They didn't either. It'll be a tough game. They don't give up easy baskets."
A&M; outrebounded the Jayhawks, 41-33.
"They are really tough on the boards," KU center Cole Aldrich said. "They had 20 offensive rebounds on us (to KU's eight). We have to keep them off the glass."
The Aggies are led by first-team all-league performer Donald Sloan, who had 15 points in the first meeting.
"He's tough to guard," KU guard Tyshawn Taylor said. "He can make tough shots. His team depends on him a lot to make plays and do different things."
A&M; coach Mark Turgeon will be seeking his first victory in five tries against his alma mater. KU beat his Aggies, 77-71, in a Big 12 tournament semifinal on March 15, 2008, in the Sprint Center.
"Turg has done as good a job as anybody in the country," Self said. "We met a couple years ago in the same setting. They'll be ready."
Turgeon was asked how the Aggies will combat a pro-KU crowd.
"We know there will be a lot of Jayhawks in here. But we've become a pretty good road team down the stretch. We've won four of our last five road games. We'll treat it like a road game," Turgeon said. "I just hope we can get healthy overnight and give them a good game. Seeing Bill's face at the end of the game, I don't think he was happy with his guys, so I imagine the Jayhawks will be ready to play tomorrow, and we have to match their intensity."
Guard Dash Harris (sprained wrist) did not play in Thursday's 70-64 victory over Nebraska and is listed day-to-day.
Tipoff for today's game is 6 p.m.
On brink of No. 200
Self, who earlier this season earned his 400th victory as a head coach, today goes for his 200th win at KU. He's 199-42 in seven seasons. Self would be the fastest coach in KU history to win 200. Roy Williams won 200 in 252 games, Phog Allen in 265 games and Ted Owens in 287 games.
Tempers flare
KU forward Marcus Morris was whistled for a technical foul along with Tech's D'walyn Roberts in the second half. Morris yelled in the face of Tech's Darko Cohadarevic, who fouled Morris' brother, Markieff, then pushed Markieff following the contact.
"At first I said, 'Stop playing dirty and keep your hands to yourself,''' Marcus Morris said of his comment to Cohadarevic. "It was just a little face-to-face confrontation. It was nothing more than that.
"I was upset," Marcus added. "It was a great foul, but the stuff after the play wasn't called for. I felt I had to step in and say something.
"Anytime when a team is playing dirty and you feel they don't respect us and are trying to do something to hurt our players we are going to turn it up," Morris said. "It shouldn't have to get to that. We should already have it turned up."
Lee in house
Former KU guard Michael Lee attended and sat next to former KU forward Wayne Simien behind KU's bench. Lee just finished his second season as assistant coach at Gardner-Webb. The school recently fired head coach Rick Scruggs after 15 seasons.
Catching Carolina
KU is now tied with North Carolina in all-time wins (2,000). The Tar Heels lost to Georgia Tech in a first-round ACC tournament game Thursday. KU could own second place on the all-time list behind Kentucky (2,017) with a win today.
What happened?
KU was caught napping when John Roberson went coast-to-coast, hit a layup and was fouled, cutting KU's four-point lead to 65-63 with 5:55 left.
"The official put the ball in play, and we were walking down the court. That's awful. Those things have and will continue to be talked about," Self said. "Hopefully it won't happen much in the future."
Aldrich said: "They just threw it in quick, and we fell asleep, didn't realize the ball was in until the crowd kind of gasped. It's one of those things that we've really got to touch up, because those things can really hurt us in the future."
KU's state of mind
Sherron Collins, on KU's mind-set: "A lot of people don't think we're motivated to win this tournament, but we're motivated because we want to keep playing to get better. You beat all these teams in the regular season, you can't come here and lay an egg."
Markieff Morris on KU's mind-set: "We were scared to lose. When we got in that mind-set, if we lose we're done, so we started playing better."
Donald Sloan on KU
A&M;'s Donald Sloan said it about today's meeting with KU: "We had an opportunity earlier in the year. Kind of let it slip by. This is another chance. I guess walking through it, we'll see tomorrow. I think our guys are ready. We're prepared. And come tomorrow I think our guys will be ready."