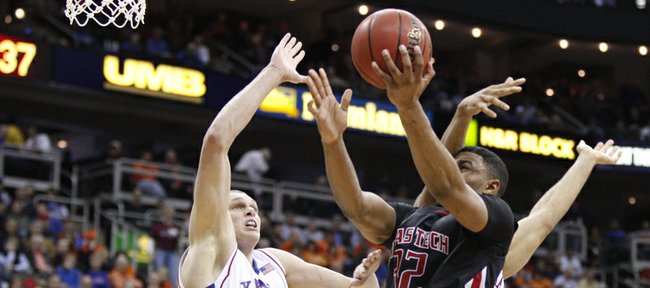 Kansas City, Mo. — Texas Tech coach Pat Knight says that Kansas University is one of the best half-court defensive teams the Red Raiders have faced this season.
The main reason: KU's 6-foot-11 defensive stopper, Cole Aldrich.
"That's what championship teams need," Knight said following TTU's 80-68 loss Thursday. "I think that's why Kansas is one of those teams, why (they can) win it all.
"(KU coach) Bill (Self) is a buddy of mine. I don't want to put pressure on him, but I think to be that good, you have to have that presence."
Aldrich contributed 12 points, 18 rebounds and three blocks Thursday.
Knight believes that Aldrich and Baylor's Ekpe Udoh are two of the best defensive big men in the country, as they not only block shots, but they also change the way opposing teams attack offensively.
"You can't drive like you're in high school — go off one leg like it's the layup line — because they're going to get it," Knight said.
Knight remained upbeat and good-natured in his postgame news conference, even after his team's 12-point loss.
Losers of seven straight heading into the Big 12 tournament, the Red Raiders defeated Colorado, 82-67, on Wednesday before falling to Kansas on Thursday.
"I'm proud of these guys. They played their butts off today," Knight said. "And many kids would have quit after the three weeks they had."
Added junior guard John Roberson: "I think, Kansas, we were a little bit intimidated by them. But this time around, we knew we could — if we played hard — we could have a chance. We just played hard."
As the son of coaching legend Bob Knight, Pat said many people don't remember that this is still just his second full year as a head coach.
Though many coaches gain experience at smaller schools, Pat received his first college head-coaching opportunity in one of the nation's toughest conferences: the Big 12.
"I'm like the amateur boxer that decides to go pro after golden gloves. And they tell me go fight Muhammad Ali," Knight said. "So I'm working on that. I have to get better each year."
TTU should be in the running for an NIT berth with a 17-15 record.
• A previous version of this story contained an error.
More like this story on KUsports.com