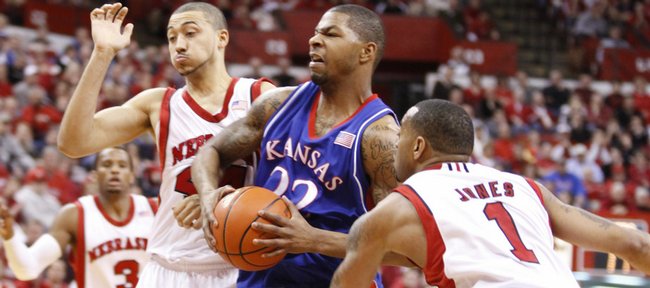 Lincoln, Neb. — Kansas sophomore forward Marcus Morris found his basketball coach's tone and words more to his liking after Wednesday night's 84-72 victory against Nebraska inside the packed Devaney Center than those sent his way after Sunday's loss in Tennessee. Here's what you have to love about Marcus Morris: He knows he earned every one of the words and the way they were delivered.
Morris said he learned from Self he would not start the Nebraska game in the locker room right after the loss to the Vols.
"You ain't starting, and your brother's not starting," was how Marcus, twin to Markieff Morris, remembered the words. "I don't know who's starting, but you're not."
Surprised?
"Coach told us all along he wasn't rewarding guys who weren't playing well, and I didn't play well the last two games, so it didn't surprise me," said Marcus, whose place in the starting lineup was taken by Thomas Robinson.
And what did Self say after the 12-point victory that started with KU trailing 12-1?
"He said he felt we took a step in the right direction, and he said he felt like I played tougher than normal," Marcus said.
That extra toughness resulted in extra production. Funny how that works. In 21 minutes, Marcus totaled 19 points and seven rebounds, including four off the offensive glass. He made seven of eight field goals and both three-point shots. In a combined 49 minutes in the Cornell victory and Tennessee loss, he totaled six points and six rebounds.
It wasn't any one thing that turned it around for him, though the first was losing his starting assignment. Next up, close friend Brady Morningstar had a talk with both twins.
"He said this team can't win without us, and we've got to step it up," Marcus said.
Morningstar, who also had a strong bounce-back game, said he wanted to make sure they weren't discouraged.
"After the Tennessee game, I played about as bad as I could have played, and I don't think they performed the way they wanted to perform, and me being an older guy, I know it's tough on them when coach is tough on us, so I just tried to tell them to calm down and play together, and everything is going to be all right," Morningstar said. "Everybody plays a bad game, and we've just got to move on."
Marcus Morris is the one person on the planet who never gets to see Marcus Morris play, so he doesn't always see what everyone else does. Wisely, he took the initiative to watch replays of recent games.
"I didn't really realize I wasn't being aggressive until I watched tape on my own and saw that I wasn't being aggressive," he said.
Morris worked hard Wednesday while scoring nearly a point a minute, but his work wasn't done. He was a man on a mission heading for the team bus.
"We had kind of a little bet going with Danny Manning during the game," Marcus said. "He said if me and 'Kieff didn't get 15 rebounds combined, we had to shave our facial hair. When I get on the bus, the first thing I'm going to ask him is if we can get a pass on this game and see if we can get 15 next game."
The extra motivation worked well, so the stay just might be granted.