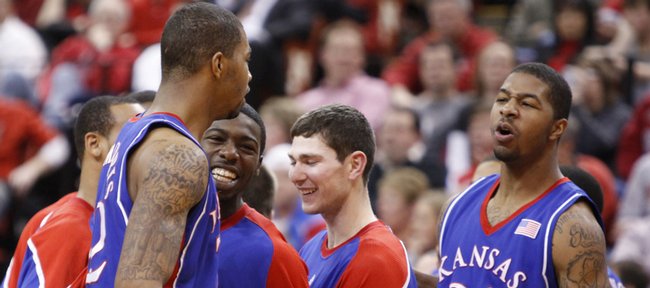 Taylor talking-to
As promised, Kansas University basketball coach Bill Self met with sophomore guard Tyshawn Taylor after Tuesday's practice to discuss Taylor's assertion to reporters that, at times, he's unsure of his role on KU's basketball team.
"Coach was a little upset," Taylor said after scoring 11 points, with three rebounds, three turnovers and two assists in the Jayhawks' 84-72 victory over Nebraska on Wednesday in Devaney Center.
"He was a little bit frustrated, just how it came out. It's not what I meant to say. It came out a little wrong. We talked about it, and everything is cool."
Here's what Taylor said he meant to say:
"Being a point guard on this team, I think my role is going to change every now and then," Taylor said. "Some nights it's going to have to be guard their best player. Some nights X (Xavier Henry) is going to be hot, and I'm going to have to find him. Sherron (Collins) is going to be hot. I'm going to have to find him. My role is going to vary. I just think it came out wrong how I said it."
Taylor admits he likes to talk in rapid-fire fashion.
"I think I was just going that day," he said with a smile.
Self joked about the matter after Wednesday's game.
"The guys really knew their roles tonight. I think they did a good job of that," Self cracked.
Robinson starts
Thomas Robinson earned his first start in place of Marcus Morris.
"I may start Thomas again because I've not been happy with the twins' energy or effort since Christmas," Self said. "Tonight their effort was fabulous."
Robinson was pulled early "after losing his man a couple times," Self said.
Robinson finished with one turnover in eight minutes.
Morris said that teammate/buddy Brady Morningstar talked to him about the twins needing to be more aggressive. Also, Marcus said the team had a productive meeting at the hotel Tuesday night.
Stats, facts
Tyrel Reed scored 11 points, one off a season-high. His trey with 10:51 left, gave KU a 60-56 lead. His three late in the first half busted a 38-38 tie. ... Morningstar, who had a big block, also kept alive an offensive board that ended up in Morris' hands. Morris hit a shot to give KU a 10-point lead with 5:59 left. ... KU hit 13 threes, tying the school mark for third-most threes in a conference game and most since sinking 14 versus Texas Tech on March 3, 2008.
More like this story on KUsports.com