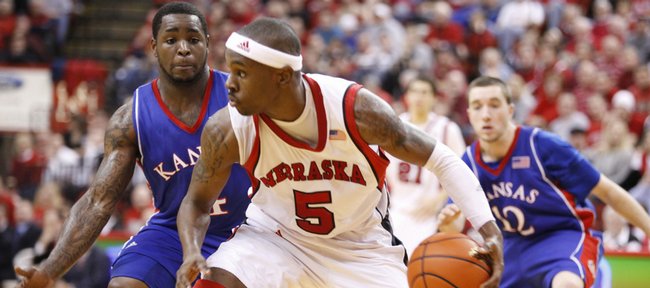 Lincoln, Neb. — A red-clad Nebraska basketball fan, who was seated in the student section, yelled in the direction of Sherron Collins after Kansas University's 84-72 victory over the hometown Huskers on Wednesday night in Devaney Center.
The fan was not out to bury KU's senior point guard, but to praise him.
"I heard him say, 'Collins. You the man. How does it feel to go undefeated here against us?' I just gave him a head nod," Collins said with a smile.
The 5-foot-11 dynamo scored 22 points off 6-of-11 shooting and drilled four three-pointers in five tries. He also went 6-of-6 from the line and had five assists against two turnovers, pretty much willing the Jayhawks to Collins' fourth victory in as many tries in Lincoln.
It marked KU's 14th straight victory overall against NU and sixth straight in Devaney. And it marked the 19th straight season KU opened conference play with a victory.
All that was made possible largely because of Collins and Marcus Morris, who responded to his removal from the starting lineup (Thomas Robinson earned the nod) to the tune of 19 points and seven rebounds.
"It wasn't easy. It's never easy here," Collins said. "They never backed down. Give credit to Nebraska and their fans. Doc (Sadler, NU coach) had 'em ready. It was a hard-fought win for us."
The Jayhawks (15-1 overall, 1-0 Big 12), who were coming off Sunday's loss at Tennessee, fell behind 12-1 just 21⁄2 minutes into the game and frankly looked like a team that might get run out of the gym.
Enter Collins, who hit three threes and steadied the ship, as KU trailed just 17-14 at 13:01.
"I thought we were really ready to play," KU coach Bill Self said. "They steal the opening tip, and then it was just downhill from there. A couple guys were sped up, but I thought we were really ready to play. So even though we were down 12-1, it wasn't the end of the world.
"And then Sherron put us on his back. Sherron got us back to the point where it was a basketball game, and we played a lot better after that."
The Jayhawks were down just 44-43 at halftime only because KU matched NU three-pointer for three-pointer. The Jayhawks hit nine of 14 to NU's eight of 11.
It was Collins who again steered KU in the right direction after Brandon Richardson's eight-point flurry gave NU a 54-53 lead at 13:11.
Collins scored two buckets — on one, he wound up landing on his backside — to open a 12-2 run that gave the Jayhawks a 65-56 advantage at 8:52. NU did cut the gap to six at 68-62, at which point Morris scored four straight, and Tyshawn Taylor iced a three to boost KU's lead to a comfy 13 points with 51⁄2 minutes to play.
"Sherron was big. He's always big. He's our leader. He's the engine that keeps us going," Morris said.
And on this night kept the Jayhawks from falling behind by what could have been an insurmountable margin early.
"I was not worried. It was too early in the game to be worried," Collins said. "Coach called a timeout, and I tried to get my team calmed down. They were hitting tough shots. We took their best shot. We knew we'd come along."
Nebraska did finally cool off. The Huskers hit 11 of 21 threes to KU's 13 of 21.
"We stayed hot," KU coach Self said of the Jayhawks, who hit 58.3 percent of their shots the first half, 57.1 the second. NU hit 55.6 the first and just 30.8 the second.
"The law of averages. Isn't that amazing how it works?" Self said. "They missed a lot of the same shots they made in the first half. Fortunately for us, we got the ball in tighter the second half yet stayed hot. We were able to make shots for the most part the majority of the game."
Self thought the Jayhawks played decent defense that wild first half.
"I didn't think they got that many open looks," he said. "I thought we played the scouting report, and I thought that Jones (Eshaunte 4-for-11 threes, 12 points) got some looks, but I don't think they were wide-open. They're averaging five threes a game. Guys made them that haven't been shooting them that well. I thought we were turned up and tried to guard them. I had fun coaching them tonight."
Next up is Saturday's home game against Texas Tech. Tipoff is 12:45 p.m., in Allen Fieldhouse.