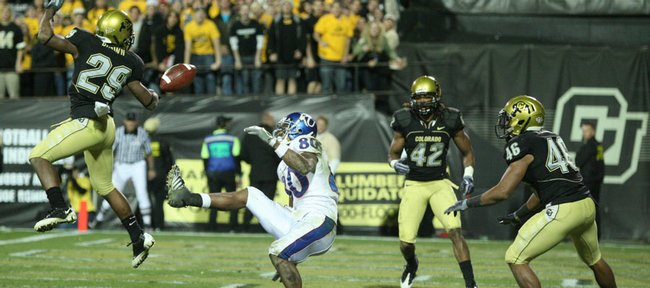 KU vs. CU
Boulder, Colo. — Makeup calls by officials don't happen in football games. That's a basketball thing.
Or is it?
A makeup call indeed might have played a role in Kansas University losing to Colorado University, 34-30, Saturday night at Folsom Field, where the students stormed the field to celebrate an upset.
A controversial offensive-pass-interference flag that nullified a Kerry Meier touchdown midway through the fourth quarter was preceded by the absence of an offensive-pass-interference call that had CU coaches and players hot.
Midway through the fourth quarter, with Kansas trailing by the final score, Todd Reesing scrambled in a way eerily similar to the most famous play of Doug Flutie's career. Reesing launched a bomb that Dezmon Briscoe grabbed out of the sky for a 41-yard gain. Briscoe appeared to clear a little room for himself with a subtle shove, but no flag was thrown.
Three plays later, on second-and-goal from the one-yard line, Reesing hit Meier for an apparent touchdown, but Johnathan Wilson was flagged for an illegal pick. The contact was minimal, not the sort that normally draws a penalty.
Any questioning of the call by Kansas quickly was followed by an explanation that the Jayhawks had nobody to blame but themselves because of two turnovers — a Reesing fumble and interception — that led to touchdowns and put them in arrears 24-3 in the first half.
"They didn't explain it," Kansas coach Mark Mangino said of the controversial call. "... I think they called the pick. That's a routine play. I don't know. No comment."
No comment often says more than any comment, and it's a lot cheaper because it doesn't draw a fine.
Kansas came up empty on that possession on fourth-and-six and had just 59 seconds of game clock left and 75 yards of real estate to cover when next it had the ball.
Even so, it came down to the final play. Football's a game measured in yards, but the difference between a victory that would have vaulted Reesing to the head of the Heisman Trophy class and kept Kansas undefeated heading into Saturday's 2:30 p.m. kickoff against Oklahoma in Memorial Stadium came down to about an inch. If Dezmon Briscoe had been able to get one more inch of his fingers on the ball, if he had held onto it for one more second, he could have come down with a dramatic game-winning catch.
To start the drive, Reesing hit Briscoe (14 yards), Meier (nine yards) and Briscoe (26 yards) to advance the ball to the Colorado 19 with 10 seconds left. Reesing spiked the ball, then had a pass intended for Meier batted away with three seconds left. Reesing put the final pass right where it needed to be, high enough for only Briscoe to reach it. Surrounded by defenders, Briscoe (154 receiving yards, one touchdown), way up there, got his hands on the ball, but couldn't hold onto it.
"I think there were about six or seven defenders around him, and it seemed like he closed the elevator and got to the top, and he was above everybody," Meier said. "It's tough when you've got that many guys around you. It's tough to come down with the ball. Briscoe played a great game."
Yes, he did, but he didn't have enough company in doing so.
Reader poll
Offense

45%

776 votes

Defense

51%

872 votes

Special Teams

3%

58 votes
1706 total votes.
More like this story on KUsports.com