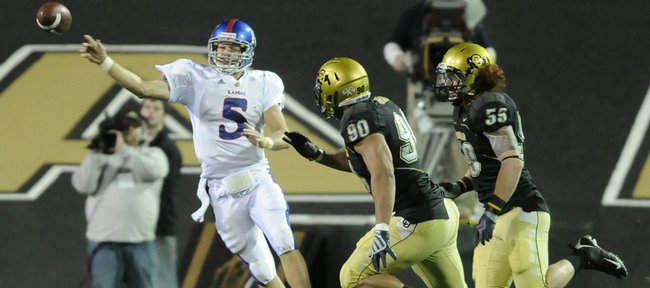 KU vs. CU
Boulder, Colo. — Colorado cornerback Jalil Brown was tired of seeing Kansas quarterback Todd Reesing lead his team to victory against the Buffaloes.
"All these years we've been playing him, he's been beating us. He's been like a thorn. We couldn't get him out," Brown said after CU's 34-30 victory Saturday night. "This game, it felt great to go out there and be able to finally get a win against him."
The postgame mood of the Buffaloes after their upset victory over the Jayhawks differed depending on the person talking.
For the players, it was all smiles and laughs and talk of rejuvenated confidence.
"I think we can win out," CU sophomore running back Rodney Stewart said. "To finally get a win against a great team, that's all we've been lacking. To do that, I think we can beat a lot of great teams."
For CU coach Dan Hawkins, though, it was no smiles and an emotionless face while talking with reporters. One might have figured that his team had lost the game.
"Again, it's always, 'Stay off the mountain. Stay out of the valley,'" Hawkins said. "That's hard."
It has been awfully hard for Hawkins to avoid the valleys lately. He has dealt with questions about his job security and also the decision to continue playing his son, Cody, at quarterback.
Many of the coach's comments afterward seemed to relate to both his team and himself.
"The bigger lesson, too, in life is you just have to keep hanging in there and just have to keep bringing it," Hawkins said. " ... Eventually, it will turn for you."
Even after facing some of the recent criticism in the community, Hawkins lauded CU's fans for their help in Saturday's victory.
"I'll be honest with you: The fans here have been really great since I've been here. I've said that from the first year we were here, and there weren't a lot of wins," Hawkins said. "If we're all going to get to where we want to get, we've all got to buy in and do this thing together."
The coach cracked a smile only once in the nine-minute media session, laughing when he was asked if he, personally, needed the victory.
"We needed the win against Colorado State, too," Hawkins said. "Every coach needs every win."
Meanwhile, Tyler Hansen — CU's sophomore quarterback who decided last week to pull his red shirt and play this season — was 14-for-25 for 175 yards with two combined touchdowns against KU.
After the game, he seemed pleased with the choice he'd made.
"Right now, it's the best decision," Hansen said. "We just beat Kansas."
Reader poll
Offense

45%

776 votes

Defense

51%

872 votes

Special Teams

3%

58 votes
1706 total votes.
More like this story on KUsports.com