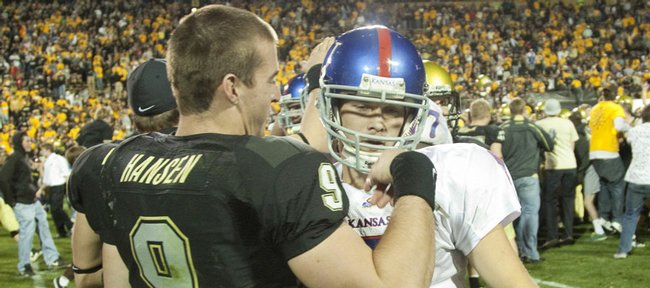 KU vs. CU
Boulder, Colo. — Kansas University's football team came back from the dead Saturday night.
Trouble was, so did Colorado.
Despite overcoming a three-touchdown first-half deficit to regain the lead — and a trailer-sized load of momentum — in the fourth quarter, the Jayhawks couldn't overcome a late Buffaloes surge, falling 34-30 to break up what had been an undefeated season.
"The Big 12 Conference is a slugfest every week," said Kansas coach Mark Mangino, whose team fell to 5-1 (1-1 in the Big 12). "Anybody can beat anyone."
That was evident when the lowly Buffaloes, who entered the game just 1-4 and with a new starting quarterback, took advantage of a number of Kansas miscues to score 24 consecutive points in the second quarter and put the Jayhawks into a 24-10 hafltime hole that would have been even deeper had KU not concluded the half with a touchdown drive.
For the first time all season, the Kansas offense turned the ball over with frequency: a bumbling play in which Kansas quarterback Todd Reesing ran into one of his own lineman and fumbled, giving the Buffaloes the ball on the Kansas three-yard line and setting up a four-yard Rodney Stewart touchdown; a Reesing interception three drives later — just his fourth of the season — that was returend 35 yards to the Kansas one and set up another score.
"You can't spot a team 14 points on the road," said Reesing, who finished with 401 yards passing and two touchdown, but was sacked five times for a loss of 48 yards. "You just can't."
Still, the Jayhawks came storming back.
Following a Colorado field goal to start the second half, they reeled off 20 straight points to take a 30-27 lead with 13:02 to go in the fourth quarter. And even when Colorado running back Rodney Stewart scored with 8:36 remaining, to give the Buffaloes a 34-30 lead, Kansas seemed to possess the momentum.
But an offensive-pass-interference call stalled the team's next drive, resulting in a turnover on downs, and following a subsequent Colorado punt, the Jayhawks took over on their own 25 with 59 seconds to go trailing 34-30.
The drive started prominsingly enough, as Reesing completed his first three pass attempts of the drive, and the Jayhawks moved the ball to the CU 20. But a last-second heave to receiver Dezmon Briscoe fell harmlessly to the turf as time expired, giving Colorado its second victory of the season.
"The second half, we battled back hard," Briscoe said. "It's one of the greatest efforts of a team I've ever played on."
In the end, however, it wasn't enough.
The Jayhawks finished with an embarrassing -8 rushing yards, thanks largely to five Colorado sacks that resulted in a loss of 48 yards, and special teams play — with the exception of kicker Jacob Branstetter — was especially unproductive.
The loss, meanwhile, spoils what would have been a 6-0 start for the Jayhawks, who will host No. 20 Oklahoma next weekend in a game in which both teams will be looking to rebound from recent setbacks (The Sooners fell 16-13 to Texas on Saturday).
"We don't sit around doing a whole lot of feeling bad for ourselves," Mangino said. "We'll be back on the practice field tomorrow, working on our mistakes, working on Oklahoma stuff, and we're looking forward to playing OU in our stadium."
Reader poll
Offense

45%

776 votes

Defense

51%

872 votes

Special Teams

3%

58 votes
1706 total votes.
More like this story on KUsports.com