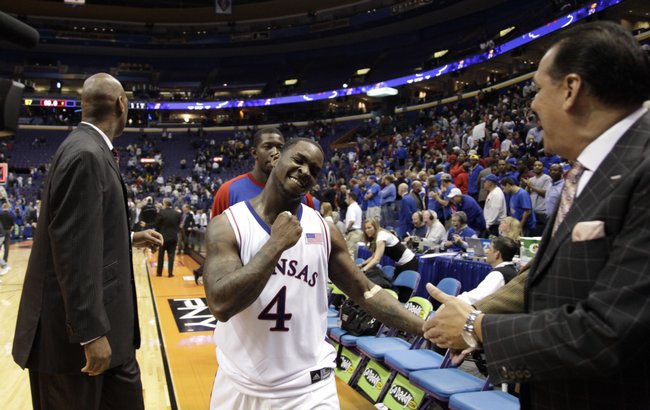 St. Louis — Marcus Morris hoped for the best as Memphis' Elliot Williams hoisted a possible game-winning three-pointer with just a couple seconds remaining in Tuesday's Hall of Fame Showcase at Scottrade Center.
Kansas University's 6-foot-8 sophomore forward feared the worst, however, as the 6-5 lefty released the basketball.
"When he shot it, I froze a second," Morris said. "I looked at his face. He was backing up, and his face ... he looked so confident. I said, 'God, don't let him make the shot.' Luckily my prayers were answered."
Williams' shot — taken fairly close to the spot Mario Chalmers made famous against Memphis in the 2008 NCAA title game — was dead-on, but banged off the rim as No. 1-ranked KU survived the pesky Tigers, 57-55.
"I didn't want him to shoot a three," Morris said, "because that would give them the win instead of a tie. But he backed up and shot it. I didn't crowd him as much as I should have."
Unranked Memphis, which elected to go for the victory instead of trying to drive for a two-pointer and the tie against No. 1-rated KU, went to its most productive player down the stretch.
Williams finished with a game-high 21 points off 6-of-18 shooting (three of 11 from three).
"We did defend the last deal pretty well," said KU coach Bill Self, who was pleased with his team's defense late, crediting Memphis' Williams and Doneal Mack for hitting clutch treys in the last minute to keep the Tigers in the game.
The Tigers' last-ditch three for the win came after KU's Sherron Collins missed the first of two free throws, sinking the second with :15.3 left, to give the Jayhawks a 57-55 advantage, setting up the Tigers' final play call.
Collins showed a lot of guts in driving the lane and scoring off a goaltending call with :29 left as KU bagged a 56-52 advantage.
That's because he cramped badly the second half. He limped to the locker room with 9:01 remaining and returned at 3:47.
Self said he thought Collins might have had IV fluids drained into his system during that spell.
"I didn't ask him. I just said, 'Make the second free throw,''' Self cracked.
Collins said he actually didn't need an IV, but was hurting nonetheless.
"I wasn't going to let cramps keep me down. I was going to finish the game," Collins said.
He was a bit frustrated because the TV in the locker room, "was a few seconds off. I'd hear the crowd cheering and not know what was going on. I had to ask the trainer," he said with a smile.
Much of what was happening on the court was not so pretty. KU committed 21 turnovers to Memphis' 13. The Jayhawks hit 46.5 percent of their shots to Memphis' 34.5. KU hit one of five threes, Memphis six of 25.
Tyshawn Taylor had seven turnovers against five assists on a day things just didn't flow for the Jayhawks, who had scored 100 or more points in two exhibition games and the regular-season opener.
"We played stupid, didn't finish plays. We have to be more focused," Collins said.
Collins finished with 12 points in 32 minutes, while Hall of Fame Showcase MVP Cole Aldrich had 18 points, 11 rebounds and five blocks.
"I thought it was a very competitive game, a great game to play early in the season," Self assessed. "I thought Memphis played extremely well, extremely hard, and we were fortunate they didn't hit that shot. I thought we played very very hard. Offensively we weren't clicking on all cylinders, but I thought we did some good things, and this game will be a very good teaching tool."
As far as that offense ... "We don't understand how to score yet," he said.
KU committed 11 turnovers to Memphis' seven as the Jayhawks struggled to a 26-20 halftime lead. Freshman Xavier Henry had four of the turnovers to go with five points and two steals.
The first-half stat sheet proved ugly all around. KU, which was led by Aldrich's eight points, hit 41.7 shots to the Tigers' 28.0. Memphis missed 14 of 16 threes, while the Jayhawks missed two of three.
Memphis had just one assist to go with the seven bobbles. KU had four assists, three by Taylor.
The best KU run of the half was a 6-0 spurt that opened a 24-17 lead with 2:05 remaining. Aldrich had a slam dunk off a feed from Marcus Morris, while Markieff Morris and Taylor each hit two free throws.
KU will next meet Central Arkansas at 7 p.m. Thursday in Allen Fieldhouse.
More like this story on KUsports.com