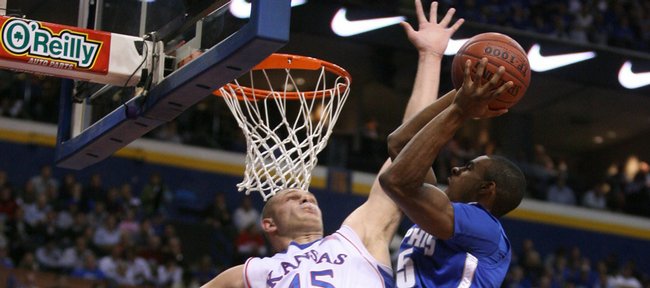 St. Louis — Xavier Henry missed shots, froze the offense by keeping the ball too long and at times was sloppy. Sherron Collins limped off the court midway through the second half and stayed sidelined for a long stretch. Tyshawn Taylor amassed seven turnovers and didn't make a field goal. Tyrel Reed didn't hit a shot, either, and had difficulty feeding the post.
Those things happen in college basketball, and they happen more often in November than any other month. About the only thing consistent about the first month of a college basketball season is that inconsistency is rampant.
The farther from the hoop a basketball player works, the greater chance there is for inconsistency. And then there is Cole Aldrich, Kansas University's junior center from Bloomington, Minn.
Smart, tough and consistent, Aldrich totaled 18 points, 11 rebounds and five blocked shots and was named the Basketball Hall of Fame Showcase MVP after leading Kansas to a 57-55 victory against Memphis.
The spark Collins gave the nation's No. 1-ranked team when he returned to the lineup carried the Jayhawks to the finish line, but without Aldrich making Memphis players think twice about shooting, Collins doesn't have a chance to put the finishing touches on the near-upset.
Aldrich led the Jayhawks in scoring despite a Memphis defense that made it difficult for him to get the ball and typical early-season tentativeness in the area of feeding the post.
"We made a concerted effort (to feed the post) from the bench, but then nobody ever threw it to me so I could throw it in there to him," seventh-year Kansas coach Bill Self said.
He wasn't smiling during breaks in the action when he was letting players know they were deficient in feeding their All-America center blessed with great hands, a soft touch and clever footwork developed under the watch of assistant coach Danny Manning.
"Being 7 feet doesn't hurt," rookie Memphis coach Josh Pastner said when asked what makes Aldrich so tough. "Secondly, he's 7-of-10 from the field. I saw him in high school a bunch. I knew he was going to be good, and they do such a good job with their bigs. I don't know if that's coach Self or coach (Danny) Manning, but they do such a good job with bigs."
Aldrich will have much bigger nights once Henry meshes well with the most talented teammates he's ever had and keeps the ball moving, knowledge that can only come through experience playing with equals after spending his entire life as easily the best player on his team.
"We don't understand yet how we're going to score," Self said. "It's amazing how much one person taken out of your lineup changes how the ball moves. We miss Brady (Morningstar) from that standpoint."
Self called this game "a good teaching tape." Henry's a good pupil. He'll understand what the coaches want and give it to them soon enough.
Asked to name one thing Kansas could do better offensively, Self laughed and said, "One? Did you watch the same crap I did out there?"
Defensively, Kansas had many factors going for it, including one very big one.
"I love blocking shots," Aldrich said.
More like this story on KUsports.com