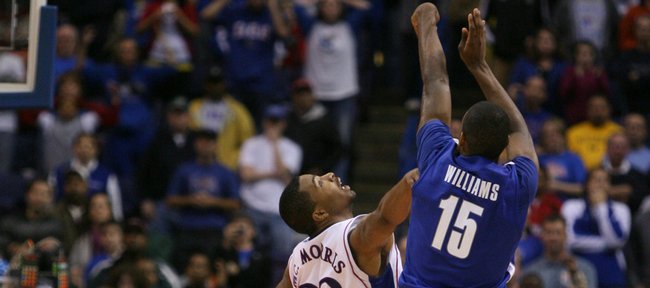 St. Louis — Elliot Williams couldn't have felt better about his three-point shot to win the game in the final seconds.
"It looked perfect, but it just rimmed in and out," the Memphis guard said after Kansas University's 57-55 victory Tuesday night at the Scottrade Center. "That's a tough one. Got to live with it."
Williams wasn't necessarily thinking three when he received the ball up top with Memphis trailing by two, but he noticed KU's Marcus Morris was backing off while expecting a drive to the basket.
"We didn't really want to go into overtime with them, but at the same time, if I had to drive, it was there," Williams said. "He was on his heels, so I went ahead and went for everything."
After the last-second shot hit back iron, Williams collapsed to the court and grabbed his head in disappointment.
The sophomore said only one thought crossed his mind: He and his team had just missed a chance to knock off the No. 1 team in the nation.
"All you can ask for is an opportunity to win the game," UM coach Josh Pastner said, "and that's what we had."
Memphis forced 21 KU turnovers, including a combined 16 turnovers from KU's four main ball-handlers (Sherron Collins, Tyshawn Taylor, Xavier Henry, Elijah Johnson).
"We got out in passing lanes," Williams said, "and just did what we had to do defensively."
The undersized Tigers couldn't find a way to stop KU center Cole Aldrich, though. The junior finished with 18 points on 7-of-10 shooting to go with 11 rebounds.
"Aldrich, he's a big guy. What they were doing is throwing over," Williams said. "The guards ... it's hard guarding Xavier, because you can't really sag in that much. He's a great shooter. And also Sherron Collins. It was a tough situation for us, but, you've just got to do the best you can do in certain situations."
Even after the loss, some of the Tigers believed their effort on national television would help their reputation going forward.
"Don't count us out at all," UM junior Will Coleman said. "We're not even ranked this year. Usually, Memphis is in the Top 25. We're not even ranked.
"I really, truly think we proved a point tonight."
More like this story on KUsports.com