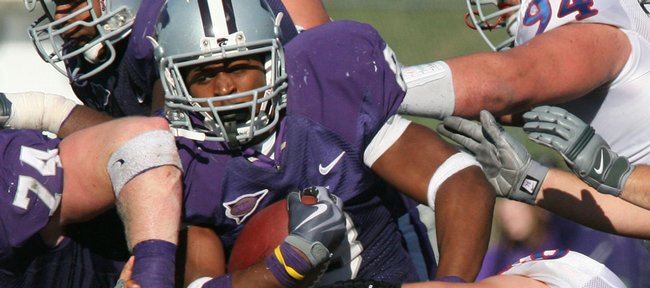 Kansas vs. Kansas State
Reader poll
Yes

18%

441 votes

No

76%

1776 votes

Undecided

5%

119 votes
2336 total votes.
Manhattan — Sometimes the best way to win a football game is by not losing it. Kansas State, in the first year of Bill Snyder II, has that formula down to perfection.
Sometimes, the best way to lose a football game is by trying too hard to win it, getting too fancy, reaching for magic that used to work and now backfires. Kansas University, melting down more severely by the week, knows all about that.
Todd Reesing, chief magician of a vastly entertaining offense the past couple of years, plays with such a battered body now that in order to attempt to make plays he once made routinely he has to try too hard, and when he does, he makes big plays for the opposition.
The central figures in the state's two Div. I football programs adhered to those blueprints Saturday in Bill Snyder Family Stadium, where Kansas State won, 17-10, by not losing and Kansas lost by not taking care of the basics. It has become who both teams are, and that's why Kansas State sits atop the North with a 4-2 Big 12 record and Kansas brings up the rear at 1-4.
Snyder recognized what he had in his football team, didn't ask too much of it and made sure what he asked was executed. Kansas coach Mark Mangino, based on what his quarterback had given him in previous seasons, expected more, asked more and hasn't adjusted to the reality that the Reesing of today has far less than the Reesing of yesterday.
Reesing committed three turnovers in the first half, giving him 10 in a 10-quarter stretch. Two came in Kansas territory. K-State did not have a turnover. Without a fancy quarterback hitting home runs with downfield passes on his roster, Snyder has built a team around Daniel Thomas, a strong, shifty running back who eats yards and clock. He can win games for the Wildcats provided the other team gives away the football.
Despite Reesing's recent habit — no doubt caused by some change in his body — of skipping numerous passes off the turf, he was asked to win the game by throwing 41 passes. Meanwhile, freshman Toben Opurum was handed the ball twice and did his job both times. On first-and-goal at the eight, Opurum rushed for three yards. The next two plays? Handoffs to Opurum? Guess again. A 12-yard sack and a four-yard completion, followed by a missed field goal. Why the distaste for running the ball so close to the goal line? Opurum's only other carry came on fourth-and-one. He moved the chains with a five-yard gain.
K-State has improved, but Kansas lost this game more than the Wildcats won it. Asked to compare this Kansas State team to last season's, Mangino obliged.
"It's light-years," he said. "They're disciplined. They're well-coached. Coach Snyder hasn't missed a beat, and I didn't think he would. He's done a good job. They have a little bit better talent than a lot of people give them credit for now. They've got some guys who can play. But he's brought structure to it. You can just see the way they play. They're fundamentally sound. They don't make a lot of mistakes. It's typical coach Snyder work."
In a division as barren as the Big 12 North, ordinary passes for exceptional. Suddenly, with spread offenses no longer dominating, vanilla's in vogue. Nobody's more vanilla than Snyder.
More like this story on KUsports.com