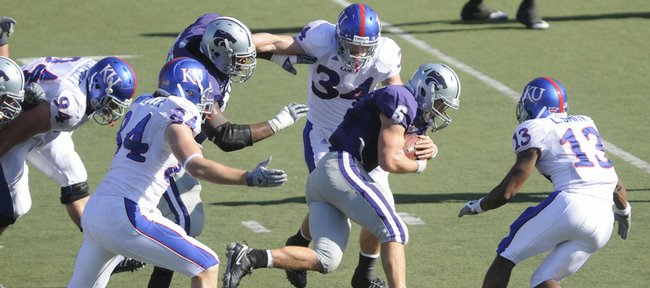 Kansas vs. Kansas State
Reader poll
Yes

18%

441 votes

No

76%

1776 votes

Undecided

5%

119 votes
2336 total votes.
Manhattan — Kansas State's football players probably didn't need any extra motivation for Saturday's game against Kansas University.
They still received some in the form of blue and red paint.
KSU's campus was vandalized early Saturday morning, as paint was smeared on KSU's Powercat logo and along the sidewalk outside the Vanier Football Complex.
Though the damage was sprayed off with water Saturday morning, the effects of the graffiti lasted a bit longer.
"I'm very routine before a game, and that kind of took me out of my element for a second," KSU center Wade Weibert said after the Wildcats' 17-10 victory. "I was like, 'Forget that. The gloves are off. This game's coming. This is for real now.'"
KSU coach Bill Snyder addressed his team about the incident before the game.
"He was extremely upset, and he had every right to be so," KSU linebacker John Houlik said. "You just don't come in and do that to somebody. We're not going to let anybody come into our home and do something like that to us."
Because the damage was cleaned up early, most players said they didn't see the paint, but instead had the story relayed to them by Snyder.
"Disrespecting us on our property, we took that in another way. That hurt us," KSU safety Emmanuel Lamur said. "That's a sign of disrespect. They don't respect us at all. So we proved ourselves like, 'OK, we need to go on the field and prove to these boys what we're capable of doing.'"
Earlier this week, a KU billboard along I-70 was painted with the white letters "EMAW," which stands for "Every Man a Wildcat."
KSU safety Tysyn Hartman said he expected some sort of retaliation, but having something happen on his own campus was a more serious matter.
"You see a picture of something happening, that's a little different than seeing it first-hand," Hartman said. "It's like, 'I'm here almost every day, six, seven days out of the week. They came this close and vandalized.'"
Weibert was most bothered by the location of the paint: on top of KSU's Powercat logo.
"That's a huge slap in the face," Weibert said. "Our logo is like our flag. It's like in America with our flag —you're going to do whatever you can to protect it.
"That Powercat, that's our logo. We're here to protect it. That symbolizes us as a family and as a team. The fact that someone can come in and do something bad to it, it definitely ticked us off."
Houlik said the incident was difficult to ignore.
"That obviously motivated us some more," Houlik said, "to come out there and try to put it to them."
More like this story on KUsports.com