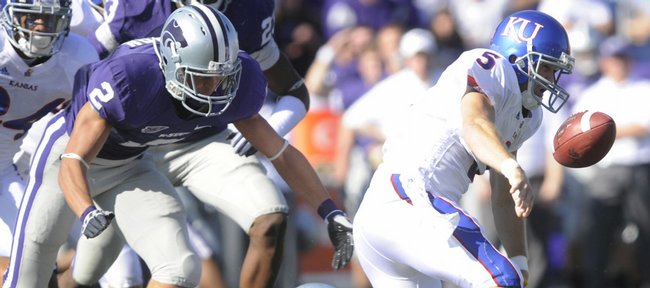 Kansas vs. Kansas State
Reader poll
Yes

18%

441 votes

No

76%

1776 votes

Undecided

5%

119 votes
2336 total votes.
Manhattan — Todd Reesing can't explain it, and so, for the most part, he has given up trying.
As the Kansas University quarterback has stumbled through the roughest stretch of his collegiate career, he has been bombarded with questions about the source of his struggles — Inexperienced offensive line? Undisclosed injury? Broken psyche? — and what he has realized is that he doesn't have any answers.

"Sometimes in life and in football, you hit stretches like this where things don't go your way," Reesing said Saturday after a 17-10 loss to Kansas State. "And no matter what you do, no matter how hard you practice, no matter how much you prepare and (maintain) a good attitude, sometimes you just get kicked down in the dirt, and it's hard to get back up."
Reesing and the Jayhawks got kicked to the dirt Saturday.
The quarterback turned the ball over three times — giving him 10 turnovers in the team's past four games — and the offense stalled for the fourth straight week, and when the dust had settled, Kansas had fallen to rival Kansas State in a game that all but ended the Jayhawks' preseason dreams of a Big 12 North title.

It was not an easy thing to watch.
Until Saturday, there was always the sense things would turn around for Reesing, the spunky, energetic Texan who arrived in Lawrence in 2006 and a year later began breaking records and leading the program to sights unseen.
Even as his play dipped over the past few weeks — three interceptions in a loss to Oklahoma and two fumbles against Texas Tech — there was always the sense that he was one big play or one extended drive away from snapping out of his recent funk and re-establishing himself as one of the nation's premier quarterbacks.
This wasn't the case Saturday, however, as Reesing threw a first-quarter interception and fumbled twice more to kill otherwise promising first-half Kansas drives.

Unlike last week, however, when the quarterback was benched in favor of red-shirt freshman Kale Pick in a loss to Texas Tech, KU coach Mark Mangino left Reesing on the field for the duration of the game, insisting afterward that Reesing will finish the season as the team's starting quarterback.

"I'm not going to be critical of a player who gives his heart and soul to the program," Mangino said. "He's our starting quarterback, and that's the way it's going to be unless there's something physical that prohibits him, and I don't see that happening. He's our guy."
Reesing, who completed 27 of 41 passes for 241 yards, said he's not playing through any more pain than any other player on the team and pointed to his rushing total against the Wildcats — he gained 48 yards on the ground — as evidence that he's physically able to get the job done.
Injured or not, however, Reesing couldn't get rolling.
And as a result, neither could the offense.
"We made some mistakes on offense that just got us," Mangino said. "The turnovers, the penalties, a couple little things here and there, it doomed us. We have to face the fact that they played smart football today, and we did not."
Despite featuring a far less flashy offensive attack — K-State quarterback Grant Gregory has thrown for a total of four touchdowns this season — the Wildcats did what they had to do. They burned the clock, made stops when they needed them and waited for Kansas to make mistakes — which the Jayhawks ultimately did.
"At the end of the day, we failed to execute and put points on the board when we had chances," KU receiver Kerry Meier said. "And when you play a good ballclub like this, you can't do that."
For the sake of pulling a silver lining from the wreckage, it's worth noting that, despite the ongoing struggles, Kansas was in the game until the final minutes.
For the third straight week, a previously written-off defense did its best to keep the Jayhawks in the game. Kansas held the Wildcats to just 66 passing yards, and although KSU running back Daniel Thomas rushed for 185 yards and a touchdown on 24 carries, K-State's 17 points were the fewest KU has allowed against a Big 12 opponent this year.
But the Jayhawks couldn't get the stop it needed after a Jacob Branstetter field goal pulled them within a touchdown, 17-10, with 5:20 remaining.
On their ensuing possession, the Wildcats kept the chains moving long enough to bleed the clock dry before retiring to their quarters to collect the Governor's Cup, the first time they've done so since 2005.
And with that, the running narrative of this Kansas season shifted from "Can Kansas win the North?" to "Can Kansas become bowl-eligible?"
Barring some unforeseen and highly unlikely developments, the Jayhawks will not win the Big 12 North this season. At this point — with games against three teams that have been ranked at some point this season — there is no guarantee that they will win the six games necessary to become bowl-eligible. Saturday, they'll host Nebraska, then travel to Austin for a matchup with No. 2 Texas before taking on Missouri at Kansas City's Arrowhead Stadium.
"Our kids are pretty resilient," Mangino said. "They bounce back pretty good. At least I'm fortunate in that respect. I don't have a lot of guys that feel bad for themselves and hang their heads.
"I'm blessed in the respect that our kids have a great spirit."