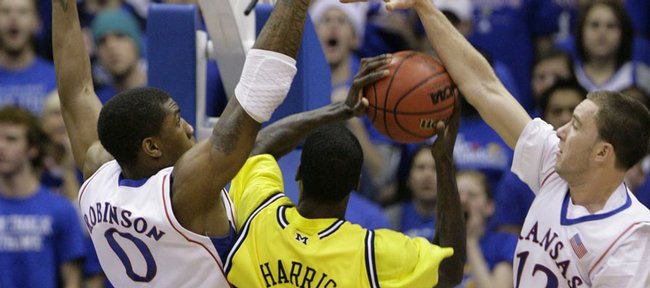 KU vs. Michigan
Reader poll
KU's rebounding

18%

272 votes

KU's turnovers

77%

1138 votes

Undecided

4%

64 votes
1474 total votes.
Michigan basketball coach John Beilein has been around the block a few times.
In 32 seasons as a head coach — with stops at places like Canisius, Richmond and West Virginia — he has racked up 587 victories and coached in a lot of big games in big buildings.
Saturday, after the Wolverines' 75-64 loss to top-ranked Kansas University, Beilein admitted to being a little awestruck by the Allen Fieldhouse environment.
"It was tremendous," Beilein said. "It was one of the few that had a little bit of a wow factor, even for this old coach. Just at the beginning, how loud it is. But at the same time, as we went into the second half, I didn't think the crowd was a factor."
Kansas (10-0) built a 21-point first-half lead, but saw the Wolverines trim that to 11 by halftime. During the final two minutes of the half, UM senior DeShawn Sims (19 points, seven rebounds) and freshman Darius Morris (nine points, four assists) each scored back-to-back buckets during a 9-0 Michigan run that was bolstered by three KU turnovers and inspired a couple of timeouts from KU coach Bill Self.
"I think that made a big difference," said junior guard Manny Harris, who scored 16 points, six below his season average. "It gave us confidence that we could come in here and beat them. Not that we didn't believe at the beginning, but we were down 20 points."
Added Beilein of his team's fighting spirit: "That could've gotten very ugly very quickly. It could have been one of the typical Kansas 100-58-type of wins that they have, and I was impressed with that. We hadn't been in that situation yet, where we were really getting blown out early and nothing was going our way. But I liked that we fought back, and we stayed in the game."
Other than that run, the Wolverines spent a large portion of the game fighting an uphill battle on offense. Michigan shot just 36 percent from the floor, including a paltry 5-of-28 (17.9 percent) from three-point range.
"We can drive it all we want," Harris said. "But if we don't knock down shots, it doesn't matter. They did a really good job defensively as a team, but we just didn't make shots."
Michigan stayed close throughout the second half — the KU lead never grew higher than 15 or dipped lower than 11 — and the Jayhawks never were able to pull away.
"Coach emphasized that during that first 13 minutes we were down by 20, but that next 27 minutes, we won by seven," Morris said. "We got great looks for all of our shooters. If we could've knocked down a couple more shots, it might have been a different outcome.
Defensively, Michigan proved it belonged on the same floor as the No. 1 team in the country, harassing the Jayhawks with a 1-3-1 trapping zone that forced 14 turnovers.
More like this story on KUsports.com