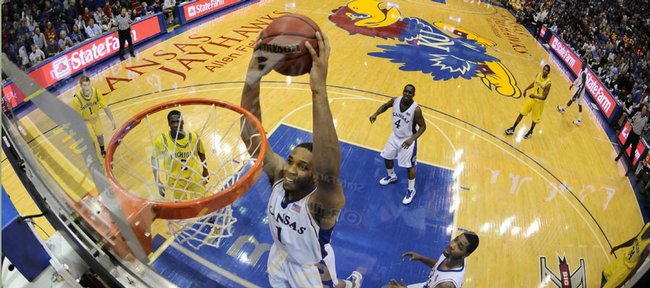 KU vs. Michigan
Reader poll
KU's rebounding

18%

272 votes

KU's turnovers

77%

1138 votes

Undecided

4%

64 votes
1474 total votes.
Withey eligible
Kansas University freshman center Jeff Withey was deemed academically eligible Friday after his first-semester grades were turned into the compliance office. He and fellow freshmen Elijah Johnson and C.J. Henry did not play: coach's decision.
"It was one of those games we should have been able to play everybody if everybody would have taken care of their business," coach Bill Self said, referring to the regular rotation players not building on an early 21-point lead.
No celebration
Tradition-rich KU recorded its first-ever victory against Michigan against five losses. A reporter jokingly asked Self if he felt "giddy" after the breakthrough victory over the Wolverines.
"Yeah, that'll look great on the resume," Self cracked.
"We told our players that (about 0-5 mark). I don't think we've played them since '92. Michigan had a decent amount of players (Fab Five) around that time. They've been great over time, going way back. Some of the greatest to ever play the game came out of Michigan. I'm happy we won the game. That stuff doesn't even register to me."
Not many for Manny
Michigan's Manny Harris scored 16 points, six under his average. He hit six of 15 shots, including two of seven threes.
"Xavier (Henry) guarded him well, but Brady (Morningstar) was obviously the best defender on him," Self said. "He is a good player. If Brady is going to guard Harris, you need 'X' in to score and Sherron (Collins) in to run the team. I thought Brady played well for his first game back (from suspension)."
Too many whistles
Markieff Morris, who had one point and one rebound, fouled out while playing just nine minutes.
"At times he was frustrated. He thought he got a couple ticky-tack fouls," Marcus Morris said of his brother. "I told him he can't argue with the refs. That's their job. That's what they do. If they are going to call a foul, try to adjust to it. It just wasn't his day, get 'em next time."
Hush, hush
Allen Fieldhouse was mighty quiet most of the second half.
"We have great fans. They were cheering trying to get us to come alive," Collins said. "I think the energy was sucked out of the fieldhouse the second half (by KU's play)."
Self says …
Marcus Morris on Self's postgame talk: "He said he thought we could have played a lot better. He said the first 17 minutes is the best he's ever seen us play all year. The last three minutes we gave them a chance to come back."
Stats, facts
Junior center Cole Aldrich was held without a field goal for the first time since the 2008 national title game against Memphis. The last time he did not make a field goal with at least one attempt was versus Kansas State on March 1, 2008. ... KU has won 48 straight home games. ... Self is 7-0 against Michigan, 1-0 at KU. ... KU held Michigan to 35.8 percent shooting, marking the 84th-straight opponent the Jayhawks have held under 50 percent. KU has held nine of its 10 opponents under 40 percent shooting.
More like this story on KUsports.com