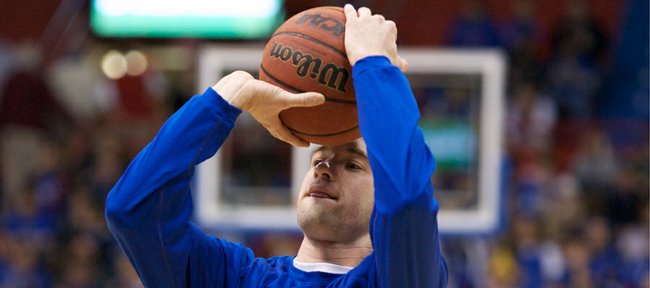 KU vs. Michigan
Reader poll
KU's rebounding

18%

272 votes

KU's turnovers

77%

1138 votes

Undecided

4%

64 votes
1474 total votes.
Brady Morningstar received numerous text messages from friends before Saturday's game against Michigan.
Though the senders were different — some were prep-school teammates, some were friends from way back — the messages remained mostly the same to the Kansas University junior guard.
"Good luck."
And, "Go have some fun."
"It feels great knowing that they have your back," Morningstar said, "and that they're there for you whenever you need them."
Morningstar played for the first time this season in KU's 75-64 win over the Wolverines. He sat out the first semester because of a team suspension stemming from a DUI charge on Oct. 3.
"It felt good (to return)," Morningstar said. "It felt like I was back in my place."
Morningstar played 22 minutes, contributing two points with two rebounds, three assists, a steal and no turnovers. He also was solid defensively, helping the Jayhawks limit Michigan's leading scorer, Manny Harris, to 16 points off 6-for-15 shooting.
"We all knew Brady could guard, and he showed us again — time after time — that he's a great defender," KU sophomore forward Marcus Morris said. "I think Brady's going to be a great boost to our team. Even though we didn't play well today, I thought Brady did defend very well."
Coming in, Harris averaged 22.2 points per game, which led the Big Ten Conference.
"I feel like coach put me out there and told me to stop him, and he expects me to stop him, and I expect myself to stop him," Morningstar said. "I try to bring the team that."
Going forward, perhaps Morningstar's greatest role will be taking some pressure defensively off Xavier Henry.
"Playing with Brady makes the game a lot easier, because when I'm on defense, I'm on the best player. When he comes in, we can switch it up," Henry said. "It'll give me a break, and he's already had a break, so we'll just go back and forth."
Morningstar doesn't mind giving Henry a breather.
"I feel that's good for me and him," Morningstar said. "On the defensive end, if they run him around, then he's going to be tired on the offensive end to shoot. If I take up the slack for him on that, then he can get back to scoring."
Self said Morningstar was KU's best penetrator against Michigan's zone defense.
"A 1-3-1 (zone), that's kind of tough, because you don't know if they're going to trap you in the corners or not," Morningstar said. "We should probably work on that a little more, but I felt good out there and in rhythm."
More like this story on KUsports.com