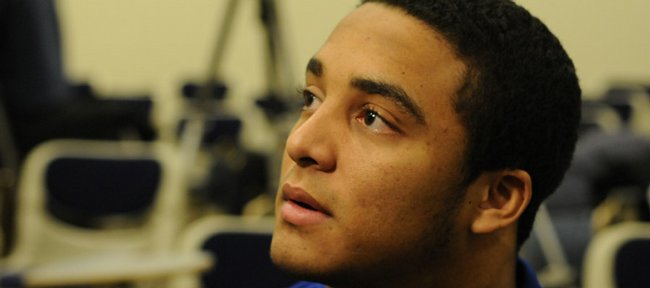 James Holt already knows what will be on his mind Sunday during the second day of the NFL Draft: samurais.
"I'll probably actually be at home typing a paper for one of my history classes," the Kansas linebacker and potential late-round draft pick said. "It's due on Tuesday, so I really don't want to have to wait until the last minute."
If an NFL team waits till the last minute to draft Holt, they might have trouble getting through. The 6-foot-3, 226-pound senior said he'll have his cell phone on silent for at least part of the day as he tries to focus on his five-to-seven-page paper about two samurai books he's read.
Even though Sunday has the potential to be one of the biggest days of his life, Holt is playing it cool so far.
"That's actually been the biggest question with everybody. 'Are you nervous?' Nah," Holt said. "I just tell them whatever happens, happens. As long as I get my opportunity, I'm just going to make the best out of it."
So what are the chances of Holt getting drafted? He even admits it's tough to tell.
FoxSports.com's Peter Schrager has Holt being selected by the New York Giants with the 27th pick in the sixth round (200th overall). Holt is the only Jayhawk listed in the 256-pick projection.
One of Holt's friends called him after seeing the article.
"You can't believe those kinds of things, because they can tell you that you go one place and you could end up on the other end of the country," Holt said. "I never really pay attention to the mock drafts and stuff. I just wait until that day comes.
"Some of those teams, they don't make up their mind until the day of the draft, so you never know what to expect."
Many mock drafts only include the first few rounds, so it's hard to gauge how much interest will be out there for the Associated Press All-Big 12 first-teamer.
Holt led the Jayhawks last season in tackles (105), tackles for loss (19.5), sacks (10) and forced fumbles (six). He also was named the Insight Bowl defensive MVP after recording three sacks in KU's 42-21 victory over Minnesota.
One advantage for Holt is his proven ability to rush the passer. Many NFL teams have gone to 3-4 defensive formations and have a need for linebackers that can get after the quarterback.
"I think they might like that, seeing me come off the edge and everything," Holt said. "I don't think they'd want me to be in a three-point (stance) like I did (this season), but definitely I could see myself being an outside rusher."
Holt has been doing light workouts since the season ended. He's kept his regular lifting routine with the hope of staying in good enough shape to be ready to participate in an NFL camp.
He's also made sure to rest and keep ice bags handy to take care of injuries. Though he said his aches "are not that big of a deal," he has had some nagging problems, including tendonitis in his knees.
Holt said he hadn't added any pounds since the end of the season.
"I have a problem gaining weight," Holt said, "but hopefully, if they send me somewhere, they'll be able to help me out with that."
Holt hasn't worked out individually for any teams, but he did participate in a "pro day" on March 10 in Lawrence.
If he isn't selected in the draft, Holt will discuss his best options with his agent, as quite a few teams potentially will offer him a chance to sign a free-agent deal with an invitation to an NFL camp.
Holt would have about a day to decide which situation would give him the best opportunity to win a spot on a 53-man roster.
The preference, though, would be to get selected in the draft.
"Any team would be fine with me," Holt said. "I would prefer it wouldn't be too cold in the winter, because I hate the cold. But if I have to adapt, I will."
Holt looks to have the best chance of any Jayhawk to be selected in the draft. Other players who could draw interest are linebackers Mike Rivera and Joe Mortensen and wide receiver Dexton Fields.
Holt, who is majoring in History with a minor in Business, will have about nine hours left to take after this semester.
Even if he does latch onto an NFL roster, Holt said he would probably be able to finish up his degree at KU next spring.