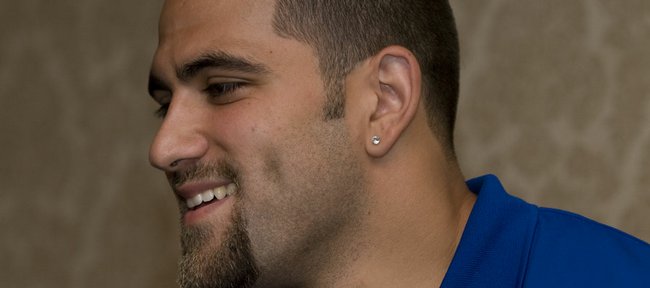 Just two months after their collegiate careers drew to a close, a handful of former Kansas University football players are trying to convince professional scouts they've got the requisite tools to play at the next level.
Eleven former Jayhawks participated in Tuesday's "pro day" in Lawrence, one of the final opportunities for NFL teams to evaluate college players before next month's draft.
Offensively, receivers Dexton Fields, Raymond Brown and Marcus Herford and linemen Ryan Cantrell and Adrian Mayes took part, while defensive representatives included linebackers Mike Rivera, James Holt and Joe Mortensen and defensive backs Kendrick Harper and Patrick Resby.
James McClinton, a former second-team all-American defensive tackle during his senior season in '07, also participated.
"From the day we got back from the bowl game, we took a week off, and then we got right back to (training)," said Rivera of the preparation for the event. "We've been working for about seven weeks straight — eating right, lifting, running."
In addition to official weight and height measurements and position drills, pro scouts put players through a series of evaluative exercises Tuesday, ranging from the bench press and broadjump to the vertical leap and 40-yard dash.
And for players in need of a strong showing — none of Kansas' seniors earned an invite to last month's NFL combine, held Feb. 18-24 in Indianapolis, making Tuesday's workout that much more integral — the day brought about a good dose of nerves.
"You only get shots at some of the drills one time, and that's it," said Rivera, who recorded a team-best 38.5-inch vertical. "And just to think that it rides on one drill is kind of (nerve-wracking)."
In one of the more intriguing developments of the day, former Kansas linebacker Joe Mortensen completed some drills at fullback — a position he hasn't played since high school but one he says he's open to playing at the next level if an opportunity presents itself.
"I was an all-state fullback in California," said Mortensen, a first-team all-Big 12 linebacker as a junior in '07. "I just love to hit, so it doesn't really matter which side of the ball it is."
The Kansas football team, meanwhile, kicked off its spring practice Monday and, after an off-day Tuesday, will be back on the field today for a 3:30 p.m. practice that is open to the public.
The Jayhawks will host their annual Spring Game on April 11 at 2 p.m. at Memorial Stadium.
More like this story on KUsports.com