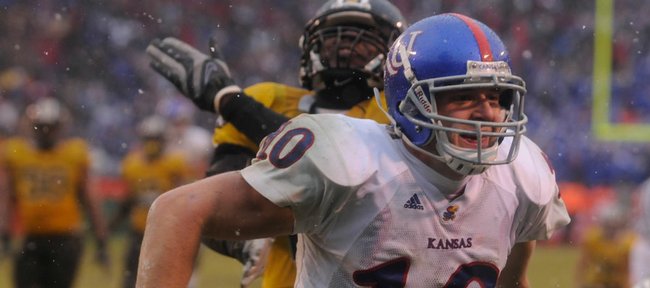 Kansas City, Mo. — A platoon of coaches on both sides watching two solid weeks of football game film from sunup to way past sundown. Memorizing formations. Devising schemes. Constantly studying. Boiling it down and drilling it into the heads of the players.
And in the end it came down to the best kid on the block drawing a play in the sand in his head and the kid he picked first when choosing up sides reading that play in the sand in his head from a quarter of a football field away Saturday afternoon in Arrowhead Stadium.
Kansas University junior Todd Reesing and his favorite target, Kerry Meier, have been speed-reading each other's minds since Reesing took the quarterback job from Meier and turned him into a receiver. They never did so in more entertaining fashion than on Reesing's game-winning, 26-yard touchdown push-pass to Meier with 27 seconds left in the game. Kansas 40, Missouri 37, a score that won't soon be forgotten on this side of the border.
For all the complexities of football played on such a sophisticated level, Reesing and Meier have a way of simplifying it. Reesing never quits on a play, never stops improvising. Knowing that, Meier never gives up on a play, never stops drawing fresh lines in the dirt.
Never mind that, according to his coach, Mark Mangino, Reesing could barely lift his throwing arm at the beginning of the week. Forget that Kerry Meier was "playing on one leg," according to Mangino. It was a perfect day to play a football game. Cold, slushy, rainy, snowy. So they played the game of their lives.
The play that has a prominent place in the history of the Border War series happened on do-or-die fourth-and-seven with Kansas trailing, 37-33, and on its last chance.
Meier, who caught 14 passes for 106 yards and two touchdowns, was not one of the players Mangino made available to the media in a truncated postgame interview session, so let's let Reesing take it from here.
"They blitzed and went to a man coverage," Reesing said. "We're just drawing a play to get a first down. We weren't trying to hit a touchdown there. We were trying to get seven yards. Kerry was the initial throw, and they had him covered. I looked to (Dezmon) Briscoe, and he hadn't got off his break, and I think he said he slipped. And after that it just kind of became back-yard football. I was just trying to buy time for someone to get open, and Kerry did what he's done best all year, find ways to get open on big plays. I just kind of shot-put the ball to him over the top and let him run underneath it."
While scrambling, Reesing stepped up, stepped to his right, and stepped up again, spotting Meier and guiding a perfect strike to him. All Reesing's best qualities surfaced on the biggest play of the season. His remarkable pocket presence, his ability to make a play last forever, his clutch nature, his accuracy, it all came into play.
How is he able to be so evasive? Does he see the pressure, feel it, sense it in some other way?
"It's a little bit of everything," Reesing said. "You have to be aware of the people around you, everyone around you, so you've got to kind of feel people on your back side and use the sidelines. You have to move around in the pocket, and some of it's luck. Sometimes you're not going to see everybody. And that time, the offensive line, they blocked hard like they did all day. They did a great job getting that pocket set, and they bought enough time for us to make a play. Without their blocking, that play doesn't happen."
Count Reesing's counterpart Saturday among those who hold his abilities in high regard.
"What can you say about Todd Reesing?" Mizzou quarterback Chase Daniel said. "He's a player, man. He can make plays out there with his feet, with his arm, and he showed it today."
Mangino articulated well how Reesing feels the game even better than he thinks it.
"Paralysis through analysis … coaches sometimes suffer from that. Intelligent players sometimes do. He doesn't," Mangino said. "Even though he's a 4.0 guy, he's a brilliant guy, he is run-and-gun, and he takes measured chances. ... He's not the type of guy that's going to sit back and analyze things. Rather than see what happens, he's going to make something happen. You can't say that he'll sit around and complain about his circumstances in life. He's not one of those guys. He will change the circumstances if he doesn't like them."
When necessary, Reesing will drift off script. That's what he and Meier did again Saturday. They took the football game all the way back to their back yards and won it, sending an entire state into a funk, another state into euphoria.
More like this story on KUsports.com