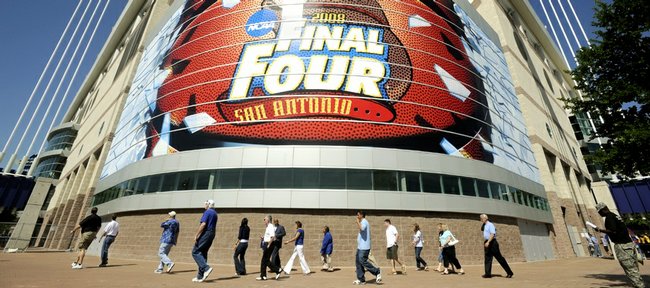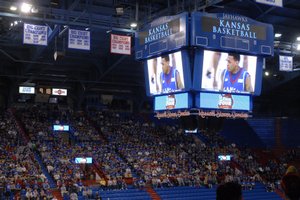 6News coverage
6News will have special live coverage tonight after the Kansas-Memphis game. We will have live reports from downtown Lawrence, highlights and analysis of the game, as well as postgame coverage from San Antonio.
Be sure to watch Sunflower Broadband Channel 6 immediately after the game.
Feature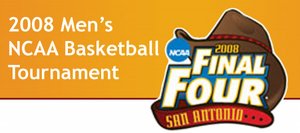 Get your March Madness fix at KUSports.com.
Lawrence is no longer on Earth. It's on Cloud Nine.
"It's unbelievable," said Ryan Owens, manager of Jock's Nitch, 837 Mass. "The buzz - it's electric here in town."
The Jayhawks' stomping of the University of North Carolina Tar Heels Saturday night drew people to the streets, where a general state of glee continued Sunday.
"The mayor of Chapel Hill sent me some barbecue," Lawrence Mayor Mike Dever said. "I enjoyed it with my friends. We were happy to eat their barbecue and to defeat the Tar Heels."
City and university officials voiced their pleasure that the celebrations took place without incident. Sgt. Paul Fellers of the Lawrence Police Department said no major incidents occurred Saturday night and early Sunday. The department was assisted by more than half a dozen other law enforcement and emergency-management agencies.
"Jayhawk fans are to be commended for their cooperation and consideration of other fans and the community during Saturday night's celebration," Fellers said in a released statement.
Sunday morning, more than a dozen city employees cleared the streets from the nighttime revelry. It was the second such sweep following winning games and a similar cleanup is planned to follow tonight's championship game against the Memphis Tigers. But Public Works Director Chuck Soules was not complaining.
"We hope they win on Monday so we can do it again," he said.
Jayhawk fans wore their typical uniform of blue T-shirts as they descended on Massachusetts Street on Sunday. Jayhawk goods were moving fast.
Owens said fans were after any item with a Jayhawk or Kansas on it.
"We are in shock and awe right now," he said. "It's like you can do no wrong today. Everybody's in a good mood. Everybody's happy, and everybody's excited."
Hank Booth, of the Lawrence Chamber of Commerce, said the victory boosts the local economy and gives greater exposure to Lawrence, drawing in out-of-town visitors.
"I can guarantee if somebody drives through Lawrence over the next few months, they're going to say, 'We've got to stop in Lawrence because we've got to get some Final Four feeling,'" Booth said.
That feeling is absolutely divine. "I'm a big Jayhawk fan myself," said Nate Rovenstein, pastor of Lawrence Wesleyan Church.
Rovenstein said he reminded his congregation Sunday that while it's exciting to win, joy and happiness comes from a higher calling.
"I also said to them, 'You know in Chapel Hill, North Carolina, there's a lot of good Christians that are worshipping the same God we are today, and I'm sure they're finding their joy in the Lord as well.'"
There seemed to be no cure to Jayhawk fever.
The win means the Jayhawks will play in the championship game the same day Lawrence resident Linda Reynolds welcomes her first grandchild. The excited grandmother already has bought her future granddaughter Jayhawk booties and a shirt.
"The baby's name is going to be Alexandria," Reynolds said. "We were joking yesterday we should name her Baby Jay."
Allen Fieldhouse, which saw about 7,000 people for Saturday's game, will open at 7:30 p.m. tonight. A larger turnout is expected for the final game of this season.
"We thought we had made the right decision, and I think last night proved it," KU Associate Athletic Director Jim Marchiony said Sunday. "And I think (tonight) will be probably even better."
KU spokeswoman Lynn Bretz would not say whether the university plans to cancel classes Tuesday if the team wins.
"The question is premature," she said.
More like this story on KUsports.com