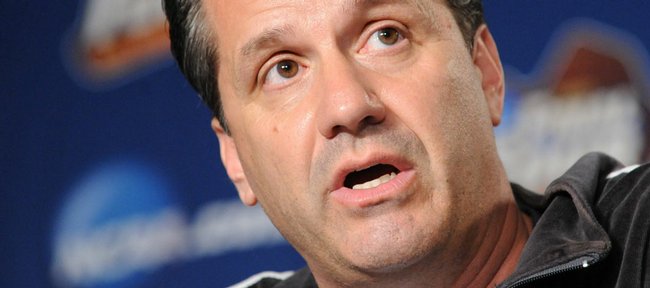 San Antonio — It's called the dribble-drive motion offense, a type of rim-crashing attack that Memphis basketball coach John Calipari adopted five years ago. Since that time, he has tweaked it and, more importantly, recruited the perfect players to make it work.
And, man, has it ever worked. Memphis is 38-1 and rolling into tonight's showdown with Kansas University for the NCAA championship. The Tigers' combination of athletic ability and a system to bring out every bit of it has worked wonders.
It expects to get its best test tonight against a Kansas team known for its great defense.
"The offense is geared to all four perimeter guys being able to start the offense, and some of it is scripted," Calipari said. "That's why I say it's like Princeton on steroids. It's just faster."
Calipari's offense - which he picked up from a junior-college coach over dinner one night in 2003 - is a sophisticated way to bring out playground talents, something standouts like Derrick Rose and Chris Douglas-Roberts grew up on.
"If you can't really play one-on-one, this offense will exploit you and you'll look really bad," said Douglas-Roberts, who grew up in Detroit. "For me, I fit right in because I have been playing that style my whole life. I've never lost a one-on-one game in my whole life."
Memphis' attack was too much for UCLA to handle in a 78-63 victory Saturday in the national semifinals. But take a closer look at the stat sheet: Memphis made just four three-pointers and had 38 points in the paint despite getting just six from its starting forwards.
That's a sign of what Calipari preaches: Attack, attack, attack. And if a transition opportunity presents itself, attack it even harder.
"There is some serious thought that's gone into this," KU coach Bill Self said. "Driving straight lanes, getting the ball to certain areas of the floor which creates penetrate-and-pitch opportunities, angles to drive it. They're great at creating isolations off what they do.
"It's really good, and it's even better if you got really good players."
Which makes Memphis as dangerous as any team in the country. Douglas-Roberts earned All-America honors and averages 18.0 points per game. There's also Rose, an electric freshman point guard out of Chicago who is averaging 14.8 points and 4.6 assists per game.
The two make up the majority of the Tigers' scoring - they had 53 of Memphis' 78 points Saturday - but are complemented wonderfully by Antonio Anderson, Robert Dozier and Joey Dorsey.
After the UCLA beatdown Saturday, Calipari opened his postgame news conference at a loss for words. He came back to one thought, which was surprisingly poignant.
"I've got a good team," he said with a grin.
Save a second-round survival game against Mississippi State, Memphis has rolled through the NCAA Tournament with few problems heading into tonight's showdown.
Much of that is the talent, with guys like Douglas-Roberts and Rose certainly in line to make NBA riches soon. But Calipari has made sure to bring out the most in them, and it has been successful 38 of 39 tries this season.
One more success and Memphis will have its first national championship in school history.
"You have to count on your team to be unselfish, you have to count on your team being able to make great decisions on the run, and you have to understand that what makes it good is they feel unleashed," Calipari said. "They never feel like they can't make a play."
More like this story on KUsports.com