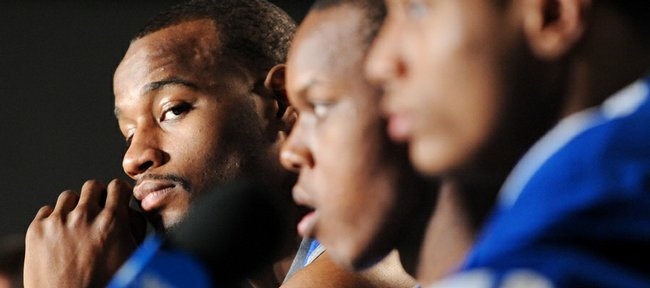 Bill Self was in the building the last time Kansas University won a national basketball championship.
"My seats were really bad. They were up at the top," Self, KU's fifth-year coach, said with a grin.
The 25-year-old Oklahoma State assistant cheered from the nosebleed section of Kemper Arena on April 4, 1988 - the day Larry Brown's Jayhawks clipped Oklahoma, 83-79, for the school's first national title since 1952.
Now 45, Self tonight will have the best seat in the house - next to '88 MVP and current KU assistant Danny Manning, while Brown will be in the Alamodome stands - as the Jayhawks try to claim KU's fifth title in school history.
Tipoff for the 2008 championship game between KU (36-3) and Memphis (38-1) is 8:21 p.m., with a live telecast on CBS (Sunflower Broadband channels 5, 13 and 201).
"There is a yearning for it," Self said of a title that doesn't figure to come easily.
Memphis, like KU, has won 12 straight games, its only blemish a 66-62 loss to rival Tennessee on Feb. 23.
Former KU assistant John Calipari's Tigers have had just one close call in five NCAA Tournament victories - a 77-74 decision over Mississippi State in Round Two.
Memphis followed that with a 92-74 Sweet 16 pasting of Michigan State, a game in which the Tigers, led by Derrick Rose and Chris Douglas-Roberts, led, 50-20, at halftime.
"I've coached against Tom's teams in the Big 10. You just don't do that to Michigan State, especially when Michigan State had a week to prepare," former Illinois coach Self said of Michigan State's Tom Izzo.
"That's as impressive a half of basketball that has been played, period."
Of course, the Tigers, who also beat Texas-Arlington by 24, Texas by 18 and UCLA by 15 in the NCAAs, could say the same about KU's first half of Saturday's 84-66 national semifinal victory over North Carolina.
The Jayhawks led UNC, 40-12, en route to a 17-point halftime advantage.
"I was very impressed with them," 6-foot-7 junior Douglas-Roberts said of the Jayhawks. "I've seen them play throughout the year. They are similar to us. It's going to be a great game because it's so evenly matched."
There are some delicious matchups for fans to savor tonight.
KU's Brandon Rush, who had 25 points versus Carolina, figures to open on Douglas-Roberts, who averages 18.0 points and 4.2 rebounds a game and scored 28 in a 78-63 semifinal victory over UCLA.
"He creates havoc in the lane. He has kind of an awkward game. You don't know how to guard him," Rush said of Douglas-Roberts, who also had 25 against Texas and 25 versus Michigan State, emerging as one of the top players in the entire tournament. "Memphis has two guys who make trouble with what they do on the court."
The Tigers' second scoring threat is 6-3 freshman point guard Rose, who enters with averages of 14.8 points and 4.6 assists per game.
Rose, who is expected to be a top-five pick in the 2008 NBA Draft, scored 25 versus UCLA, 21 against Texas and 27 versus Michigan State.
"What goes through my mind is how we don't get a break. We faced Lawson (Ty, North Carolina), Curry (Stephon, Davidson), Scottie Reynolds (Villanova), and now we get Rose in the championship game," said KU senior Russell Robinson, who figures to open defensively on Rose, with Mario Chalmers and maybe even 5-11 Sherron Collins, despite a height mismatch, ready to lend a hand.
"I'll probably get him first; I'll probably get him last," Robinson said with a laugh, referring to the assignment. "I look forward to the challenge. I've seen him play all year. He's explosive, has size. It'll be tough. We have to make him work for everything.
"He can shoot, drive it, he's fast and has height. I've played against O.J. (Mayo, USC), Bayless (Jerryd, Arizona), D.J. (Augustin, Texas). He's probably the most complete of all those guys."
Of course, Robinson is known for his in-your-face defense.
"It's my last go-around, my last chance to show I can play with the elite of the elite," said Robinson, who also would like to play professionally for a living. "It's the last game of my career. Here I am. It's the game I'll show my kids the rest of my life."
Of course, no team with one loss is solely a two-man team.
Memphis also has rugged rebounders in 6-9 bookends Joey Dorsey (9.7 rpg, 6.9 ppg) and Robert Dozier (6.7 rpg, 9.1 ppg) and an athletic fifth starter in 6-6 guard Antonio Anderson (8.5 ppg).
Shawn Taggert, 6-10, 230, brings some size off the bench, contributing 6.0 points and 4.2 boards a game.
"Memphis is good," Robinson said, "very good. But we're confident as well when you figure all the kinds of ways we've won lately - up and down, slow-paced. What we need to do is play with energy and continue to come out and have fun like we did against Carolina."
Self hopes his team can duplicate or even surpass the effort shown versus UNC.
If KU can score one more point than the Tigers, Self would be join the fraternity of coaches with national title rings.
Calipari on the other side also is trying for his first NCAA title.
"I don't think John or myself will become a better coach, get a lot smarter between 8 and 10 p.m.," Self said. "But people perceive it that way. At least I think the public perceives it that way. In the profession, I think if you watch a team over time and it plays unselfish, hard, likes each other, plays smart, executes, that's how coaches are judged within our profession.
"But certainly the flavor of the month or whatever that fans like or media likes is the guy that's standing at the end. I don't think just because you are the last one standing makes you a lot smarter, probably pretty lucky."
He hopes he's as fortunate as Brown and Manning were in '88. Self would like nothing better than to bring a title trophy back to Lawrence.
"It's been a remarkable week. It's been the best week of my professional career. I'd like for it to become even a better nine days if we play really well tomorrow," Self said. "Most important to me is those players. I will tell you we have a group of guys I feel connected to in a big way. They've worked hard to get to this point, and I'm sure will bring it again tomorrow. I'm proud of those guys."
More like this story on KUsports.com