Videos
The Border War 2007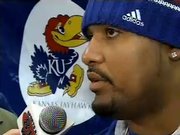 ¢ 6Sports video: Beaten but still in top 5<br /> ¢ 6News video: Fans cheer on Hawks from Lawrence<br /> ¢ 6News video: Crowds brave cold for ESPN's Gameday<br /> ¢ 6News video: Broken dreams<br />
For nigh onto four decades now, Jim Carothers and I have been transplanted Tigers in the Land of the Jayhawks.
Both of us graduated from Missouri in the spring of 1963, yet he witnessed arguably the most depressing defeat in MU football history, and I didn't.
For those of you who don't know Carothers, he is a KU professor of English who specializes in William Faulkner, baseball literature and American humorists - an eclectic combo, to say the least.
Carothers was an MU sophomore on Nov. 19, 1960, when, for the first time in history, the Tigers were approaching a game as the No. 1-ranked football team in the country.
Oh, the joy. Oh, the delight. The Tigers had won handily the week before, stunning Oklahoma, 41-19, in - of all places - Norman, Okla., where the Sooners lost about as often as rain fell in Death Valley.
That No. 1 ranking, coupled with the fact Mizzou would be meeting arch-rival Kansas, placed a premium on procuring a seat. Moreover, it was homecoming.
"I was offered $25 for my student ticket," Carothers recalled, "which would have bought me a working automobile at that time."
At that time, I may have considered selling my student ticket for 25 bucks, too, but I went to junior college for two years and didn't enroll at MU until the fall of 1961.
In those days, a student ticket for five home games cost $10, so Carothers was passing up a $23 windfall which indeed may have been enough to buy an auto that ran, although probably not for long.
All the Mizzou faithful expected the Tigers to mop up on the Jayhawks that afternoon. After all, KU already had lost twice. What the MU fans ignored, however, was the fact KU lost to Syracuse when the Orangemen were ranked No. 2 in the country and to Iowa when the Hawkeyes were ranked No. 1.
Kansas 23, Missouri 7.
"It was devastating," Carothers said. "Every true son was not so happy-hearted that night, nor for a long time afterward."
In retrospect, the Missourians may have felt a little better if the game had been close, if Kansas had won by a touchdown or less. As it was, though, KU stuffed one of the nation's most potent running attacks. The Tigers failed to post a first down until 10 minutes had elapsed in the third quarter.
In the meantime, John Hadl had thrown a touchdown pass to Bert Coan, and Roger Hill had kicked a field goal. Later, Coan would score again, and Sam Simpson would catch a TD pass with just :37 remaining for the final insult.
Never before had Kansas defeated a team sitting on top the national polls. Never since, either.
A month or so later, Kansas was stripped of the victory when Missouri ratted out the Jayhawks for using an ineligible player. Coan, it was proven, had accepted a flight to an all-star game that was judged to be an extra benefit.
Missouri claimed a 1-0 forfeit victory and, for a while, KU listed the game as a defeat, but later came to its senses and now goes with the original 23-7 score with an asterisk.
Much of the animosity Kansas harbors toward Missouri was fostered by MU beseeching NCAA vengeance for that whupping. And that's exactly what it was. An a**-kicking.
"Nobody who was there had any doubt at the time, or since, about who really won," Carothers said. "Nobody since has ever, to my knowledge, claimed that Mizzou won and KU lost."
More like this story on KUsports.com