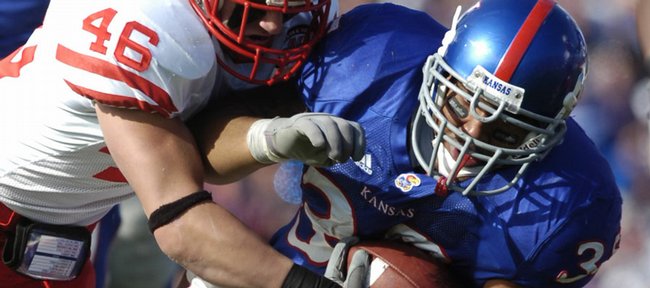 Every time Brandon McAnderson took a handoff his senior year on Lawrence High's football team, Kansas University coach Mark Mangino's emotions would be in a tug-of-war.
What a talent, he would think. But what a price.
"If you want to know the truth, he is a great running back," Mangino said before a smile escaped him. "But I was hoping they were going to throw the ball more because my son was the quarterback. They didn't have to because they had really good running backs.
"Brandon's gain is, I guess, my son's loss."
It's all for the best, even if it took five years to realize it. Mangino now is enjoying his finest season as KU's coach. His son Tommy, the former LHS quarterback, is at the coach's side during practices and games. And McAnderson - with a lot of work in high school to get him ready, we can say - is now a 1,000-yard rusher for the undefeated Jayhawks.
That's right. A primary blocker for his first three years at KU, McAnderson has 161 carries for 1,009 yards this season. The stats could keep adding up today when the No. 2 Jayhawks go for the Big 12 North title against No. 3 Missouri at Arrowhead Stadium.
The winner of tonight's game also likely will ascend to No. 1 in all the national polls after reigning No. 1 LSU fell to Arkansas, 50-48 in three overtimes, Friday.
McAnderson is only the 10th player in KU history to get 1,000 rushing yards in a season. Jon Cornish was the last, getting a school-record 1,457 yards last year.
"I guess when I'm done playing, I can look back on it and think it was pretty cool," McAnderson said. "But right now, it doesn't mean a whole lot."
McAnderson's constant drive is no surprise to Mangino. While he and assistant coach Clint Bowen pondered McAnderson's ability in high school - and offered him an early scholarship as a result - Mangino thought a number of factors would lead the 6-foot, 235-pounder to being productive during his KU career.
Perhaps the biggest one? Pride.
"He wanted to be here," Mangino said. "It was important that Brandon McAnderson played football for KU. He is one of those kids that lived in the area, and this is important to him. This wasn't just going out to play college football. He wanted to play for Kansas."
McAnderson remembers KU's last big season, a 10-2 run in 1995. He also remembers the down years, when tickets were passed out in abundance through the youth league he played in and where metal strips of bleachers stayed empty throughout games at Memorial Stadium.
But it never tempered his desire to stay in his hometown and help make a difference. Almost like it was a calling.
"I felt like it was time for a change, and I thought Mangino could be the guy to change things around," McAnderson said. "I'm glad to be a part of it."
A part of it? He has been one of the engines. McAnderson raced past 1,000 yards in just 11 games, after running for 228 yards in his first three years COMBINED.
He had a 183-yard effort at Texas A&M;, 132 at Oklahoma State and 119 against Nebraska. In addition, his 15 touchdowns rank him fourth in the Big 12 Conference.
Surely, he didn't see this much of an impact coming.
"I didn't," McAnderson admitted. "I thought I would be a part of the offense. Not that I didn't have confidence in myself, I just didn't think I would be able to produce as much or our O-line would be able to play as well as they've played."
Well : they all have. Because of that, Kansas is racing toward its best season yet. And at least part of the contribution has been made from a local product.
See? That pride factor does have its share of clout.
"It means a lot to me," McAnderson said. "When I came here, that's what I wanted to be a part of, the turnaround of the program. I think I've been a part of that, and it's been fun."
More like this story on KUsports.com