Videos
The Border War 2007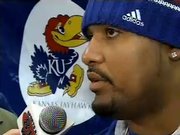 ¢ 6Sports video: Beaten but still in top 5<br /> ¢ 6News video: Fans cheer on Hawks from Lawrence<br /> ¢ 6News video: Crowds brave cold for ESPN's Gameday<br /> ¢ 6News video: Broken dreams<br />
Tammy Ford, of Lawrence, is facing a clothing conundrum.
She and her husband will be at Arrowhead Stadium in Kansas City, Mo., today to cheer on the Kansas University Jayhawks, but they may have to do so clad in the University of Missouri's colors.
"I'm a little bit worried because my coat is black, and my husband's is gold," she said.
Not good for fans who bleed crimson and blue.
Ford, a People's Bank employee, was shopping on Massachusetts Street Friday afternoon to find KU apparel to sport her team's colors - and to keep her warm.
Saturday's temperatures are expected to be chilly during the day, and they will only get colder by the 7 p.m. kickoff.
Tailgaters can expect clear skies, light wind and a high of 30 degrees, said Jennifer Schack, 6news chief meteorologist.
By game time, temperatures will drop and hover in the mid-20s by 11 p.m., she said.
"It's going to be freezing," said Kelsey Allen, a KU junior from Olathe, who said she will be bundled up in the top section of Arrowhead Stadium in Kansas City, Mo., the site of the annual Border War.
Allen, who also works at Jock's Nitch Sporting Goods, 837 Mass., said lots of KU hats, mittens and scarves were selling as people began "preparing for the cold."
Layering may be key for those watching the game outdoors.
Elizabeth Mohr, a KU graduate student, who also will be at Arrowhead, suggests wearing Under Armour, thermal underwear and ski socks. Mohr, who works for the university's athletic department, said being warm and being decked out in KU gear will be no problem for her.
But other fans will pile on whatever they can find.
Martin Ross said he will wear his KU hockey jersey, layered over a KU sweatshirt and T-shirt. Ross flew in from Los Angeles specifically for the game, he said. A year ago, he and his wife moved from Lawrence to California.
"It's just spectacular to come back," he said. "The whole town's pumped. It's more than I could ask for."
He said the sheer number of fans at Arrowhead Stadium may make the outdoor venue a bit warmer.
Downtown Lawrence Inc. is hosting an outdoor watch party beginning at 6 p.m. at the southwest corner of Ninth and New Hampshire streets. The game will be projected on the north wall of the city's parking garage.
Jane Pennington, executive director of Downtown Lawrence Inc., said there will be six patio heaters to help keep people warm. People will need to bring their own blankets and lawn chairs to sit in the grassy lot near the garage. Pennington also recommended people bring hand and toe warmers.
The watch party is free, and food and drinks will be for sale.
Sugarfoot Catering, 518 E. Eighth St., is cooking barbecue brisket and chicken salad sandwiches, chips and soft drinks, and O'Malley Beverage of Kansas Inc. will have a draft truck on hand selling Budweiser and Bud Light, she said.
More like this story on KUsports.com