Videos
The Border War 2007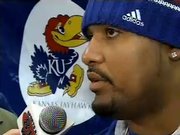 ¢ 6Sports video: Beaten but still in top 5<br /> ¢ 6News video: Fans cheer on Hawks from Lawrence<br /> ¢ 6News video: Crowds brave cold for ESPN's Gameday<br /> ¢ 6News video: Broken dreams<br />
St. Louis — St. Louis Rams players usually keep a close eye on the big college games. But somehow, tonight's Kansas-Missouri matchup for the Big 12 North title holds almost zero interest.
Tight end Randy McMichael, who went to Georgia, had a succinct "Who cares?" reaction this week followed by more lengthy discourse on the state of the game.
"You know it's a dark day in college football when a big game is between Missouri and Kansas and it has national championship implications," McMichael said. "It's just unbelievable.
"Football? Kansas and Missouri? How did that happen? Who all lost?"
The Rams might be a little jealous of the attention that game is getting, considering they're 2-8 while Kansas (11-0) and Missouri (10-1) are both enjoying historic seasons. Kansas is No. 2 and Missouri No. 3, and the winner of tonight's sold-out, neutral-site game in Kansas City's Arrowhead Stadium remains on track for a shot at the national title.
Then again, the Rams have no players from either school on the roster and only six from the entire Big 12.
Running back Steven Jackson has his eye on his alma mater this week.
"Who do I like? I like Oregon State," Jackson said.
Linebacker Pisa Tinoisamoa, who went to Hawaii, was sticking up for the unbeaten Rainbow Warriors. "I like Hawaii against Boise State."
Quarterback Marc Bulger's school, West Virginia, is No. 4 but jumped Missouri to third in the BCS this week. He anticipated Missouri returning the favor to the Mountaineers (10-1), who have a weaker finishing schedule.
"I think if they win this week, they're going to leapfrog us again," Bulger said. "We have Pitt and Connecticut, so we need some help. But I've got my own formula."
When pressed, McMichael picked Missouri to advance to the Big 12 championship game next weekend in San Antonio. His reasoning: He's a tight end and Missouri has two good ones in Martin Rucker and Chase Coffman.
Rucker, who turned down a chance to enter the NFL Draft after his junior year, could be a first-day draft choice in April. McMichael also is impressed with Coffman's ability to hurdle tacklers.
"The way things are looking, I think Missouri might get them this year," McMichael said. "I like Missouri because I love their tight ends."
More like this story on KUsports.com