Videos
The Border War 2007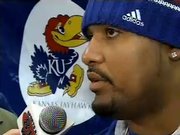 ¢ 6Sports video: Beaten but still in top 5<br /> ¢ 6News video: Fans cheer on Hawks from Lawrence<br /> ¢ 6News video: Crowds brave cold for ESPN's Gameday<br /> ¢ 6News video: Broken dreams<br />
Reader poll
QB Chase Daniel

35%

1656 votes

RB Tony Temple

1%

72 votes

TE Martin Rucker

9%

463 votes

TE Chase Coffman

6%

289 votes

Do-it-all Jeremy Maclin

44%

2045 votes

Someone else

2%

114 votes
4639 total votes.
You pick up the phone and dial the numbers to Don Fambrough's house just days before Saturday's Border War game between No. 2 Kansas and No. 3 Missouri. A perfect chance, you think, to pick the brain of the most passionate Mizzou hater out there.
Busy signal. Big surprise.
Fambrough is one of sport's most popular figures this week, a symbol of all things hostile between KU and MU as the Border War revs up for its most anticipated battle yet.
Fambrough will be at Arrowhead Stadium in Kansas City, Mo., for the 7 p.m. kickoff Saturday. He wouldn't miss it.
But in the meantime, he has plenty to get off his chest.
"It doesn't take much to get me excited about playing Missouri, because I don't like those folks" Fambrough says when you finally reach him. "I hope it doesn't get out of hand. I hope I don't get out of hand. But I might."
Fambrough, 85, is a former player, assistant coach and head coach for the KU football team. In his retirement, he's stayed close to the program with the blessing of current coach Mark Mangino.
This season, he's watched the Jayhawks race to an 11-0 start. He's reluctantly accepted Missouri's legitimacy, too, as the Tigers now stand 10-1.
It sets up a clash of the titans that has Fambrough impressed. And that's saying something - he's seen almost everything in his 61 years associated with KU.
"It would be exciting if we were playing Little Sisters of the Poor," Fambrough said. "But playing Missouri and the football team they have and the football team we have; it's just unreal. It's something I've never witnessed before."
With that, he's off. Fambrough gets into his favorite stories of the rivalry without solicitation. He swears that MU coach Dan Devine sent an obscene gesture toward KU coach Pepper Rodgers during a game in the 1960s. He once got scolded by a history professor for telling his team that William Quantrill was an MU grad.
Finally, he calms back down. Before you let him give his voice box a rest, though, there's one more request. A prediction, please.
"I think we win 68-63," Fambrough responds. "It will probably be a high-scoring game."
He pauses, then amends his guess.
"Who knows, we might win 3-0," Fambrough said. "But we're going to win. And they will be dancing in the streets in Lawrence, Kansas late Saturday night. I promise you that."
More like this story on KUsports.com