Videos
The Border War 2007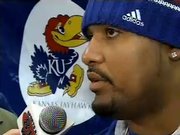 ¢ 6Sports video: Beaten but still in top 5<br /> ¢ 6News video: Fans cheer on Hawks from Lawrence<br /> ¢ 6News video: Crowds brave cold for ESPN's Gameday<br /> ¢ 6News video: Broken dreams<br />
Reader poll
QB Chase Daniel

35%

1656 votes

RB Tony Temple

1%

72 votes

TE Martin Rucker

9%

463 votes

TE Chase Coffman

6%

289 votes

Do-it-all Jeremy Maclin

44%

2045 votes

Someone else

2%

114 votes
4639 total votes.
If Todd Reesing has 100 percent of his physical faculties and can go the route, Kansas is going to defeat Missouri in Saturday's football showdown.
If "Sparky" is still hindered by that dinged-up ankle that had him limping the past two games, MU is likely to prevail.
Nobody has said much about the Reesing gimp, what caused it and how bad the source might be. Kansas certainly isn't going to broadcast that Hot Toddy could be a bit sub-par. Missouri will do its best to rag-doll the brilliant Kansas quarterback if he's wholly healthy. If there is an ankle glitch for Tiger raiders to exploit, his exit from the game might be hastened. The formula for tigers in the wild is C-A-K-E, chase, attack, kill and eat. These Tigers are on the prowl for one of the tastiest victories in their history.
But, don't you think KU's defenders will focus their spotlight on any perceived weakness of MU quarterback Chase Daniel? That's the way the game is played. When the stakes are as high as these are, every glitch and gap will be exploited.
Reesing didn't appear hindered, despite the limp, as he led KU to victories over Oklahoma State and Iowa State. He could be completely healed and ready for further feats of a Heisman Trophy nature. KU fans hope so. If he's full speed, rack up a 12-0 record.
The bottom line is that Reesing is more important to Kansas than Daniel is to Missouri, for all Chase's heroics and potential therefore. Beyond Daniel, MU has in Jeremy Maclin an athlete who's better than just about any guy KU can throw at him. The supporting cast, with running back Tony Temple, tight ends Martin Rucker and Chase Coffman and receivers William Franklin and Tommy Saunders, is as good as any in the country.
But then there's Sparky of Kansas, who recognizes what must be done and transmits that to his teammates. The KU coaching staff is not exactly a coven of dummies and has had time to devise some "specials." If Reesing is at his best, get packed for a Big 12 title game trip.
We saw Oregon's promising season go south with the loss of its ace quarterback; ditto ballyhooed Oklahoma. The loss of Reesing and Daniel could hare-lip KU and MU. If both teams should lose their starting QBs, KU's second-stringer, Kerry Meier, would be more likely to lead his club to victory than MU's backup - Chase Patton (lordy, another Chase?).
Meier has seen battle, has ratcheted up his psyche, is no longer so mechanical and seems to relish combat.
To me, the saddest aspect leading up to the most significant game in this 115-game series is that too much attention has been paid to the "hate" element and bloodiness of the past. This supposedly has fostered the ugliness by fans, many of whom have no deep interest in the actual game. I don't know if you read about that 64-year-old judge in Kansas City who's likely to show up at the next Quantrill Family reunion. On his office wall is a print of the sacking of Lawrence and a plaque: "1863, Missouri vs. Kansas, Missouri 183, Kansas 0".
How'd you like to run a stop sign and appear in this dolt's court room with a Kansas license plate?
KU's fabled Don Fambrough sometimes carries the "hate" angle too far even though he has good reasons for abhoring MU.
How about more of us abandoning mean-spirited stuff and appreciating the players, theirs and ours, for a magnificent extravaganza with national title overtones? Forget the hate; play football.
More like this story on KUsports.com